To our dogs we are their whole world, and when we feel the same about them incredible and everlasting friendships are born.
Anthony Rogers is a homeless man who lives on the streets of the Memphis area. Throughout his life, he has gone through rough times and lots of obstacles, but he was able to overcome each of them thanks to the love his dog Bobo has given to him. 
Sadly, Bobo went missing one day and it broke Anthony's heart into a million pieces. It felt like his whole world crashed as Bobo was all he had.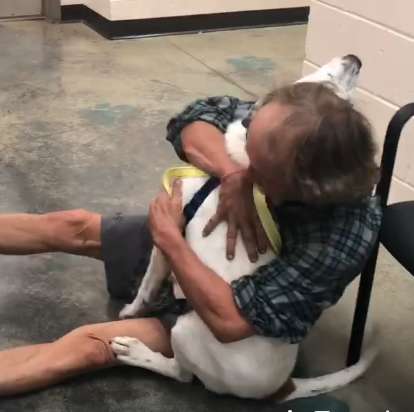 Anthony did all he could in order to find his beloved Bobo. He placed flyers all over the area and begged friends to join him in the search. However, no one has seen Bobo. Anthony even contacted animal services, but to no avail.
And just when he lost hope, a police officer who stumbled upon the flyers remembered seeing a dog that resembled Bobo very much. To Anthony's surprise, it was his four-legged best friend. 
"Bobo got neutered, microchipped and vaccinated, and we found out he was heartworm negative," Memphis Animal Services wrote. "We sent him back to Anthony with a year's supply of heartworm prevention, a bag of dog food, and a harness, leash, collar, and ID tag. Bobo is healthy and happy."
The video of the reunion melted millions of hearts. 
"Bobo could not contain his happiness at seeing his dad again," the shelter posted on Facebook.
Seeing the dog running towards his human with such enthusiasm only proved once again that these magnificent creatures truly are man's best friend. 
This reunion is something you don't want to miss. Take a look at it in the video below.