All he knew was that the man had needed his help.
One gas station employee has recently made headlines and praised by his local community – for helping a 91-year-old man out by changing his flat tire out free of charge. His name was Jared Stice, and he works at a QuikTrip gas station in Tulsa, Oklahoma.
During one of Stice' work shifts, a 91-year-old man named Arthur McAfee had dropped by the gas station, asking if anyone is able to change a car tire. The old man was in the midst of leaving the grocery store, just as he realized his tire was flat after taking a closer look at his vehicle. This caused him to pull over at the gas station, looking for someone to help him out. Seeing that McAfee needed urgent assistance, Stice offered his time almost immediately.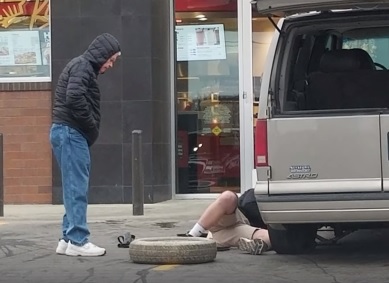 Stice followed McAfee outside, and towards the old man's car. With some handyman tools, he got to work – and was not bothered with the bitter cold winds either. Stice was not wearing any thick clothing to keep himself warm, either. Despite that. he was still willing to stick his neck out for someone in need. The whole process took 10 minutes.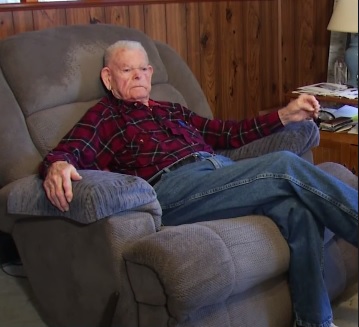 The very next day, Stice received a text message from his girlfriend, notifying him that he was 'internet famous' – someone had taken a photo of him fixing McAfee's car! McAfee was one of Stice's friends' grandfather, and he had been battling skin cancer. What a coincidence!
"I was going to bed. She sent me a text that said 'look on Facebook, there's a picture of you going around'. I looked, and there was a picture of me on the ground. No one knew it was me yet."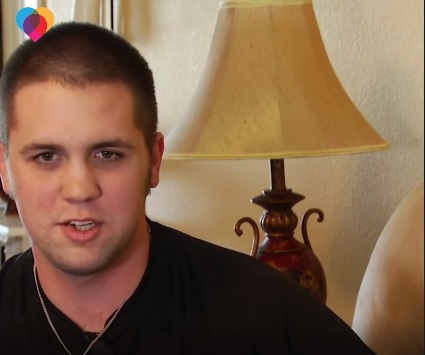 Watch the news report in the video below!
Share this story!