After a day's worth of work, the firemen saw someone they would least expect to be there!
California is no stranger to one notorious natural disaster; wildfires. One such wildfire incident has even displaced families, destroyed many properties and caused great devastating losses amongst the locals. It was the largest fire to sweep across California, and it was nicknamed 'The Camp Fire'.
The fires have even demolished an entire town, earning itself a reputation as the most destructive fire ever to occur in the Californian state. Dozens of people have already perished in the fires, while hundreds still remain missing. It has been a bout of incredibly tough work to battle the fires, leaving many emergency workers exhausted and worn out.
Many generous local volunteers have donated water for the workers helped their own families last to save others, as they were risking their lives while doing so. Several celebrities have also lost their homes in the fire as well. But one celebrity has personally went down to help the firefighters and other emergency personnel in only one way he could – and he did it the best.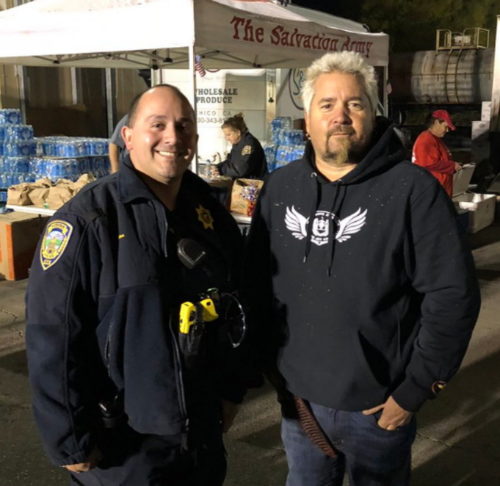 It was well-known restaurateur and Food Network star Guy Fieri. He whipped up some mouth-watering, tasty and energy-replenishing food for many hungry people. The menu included dishes such as pulled pork – it was even served to helpers at the law enforcement staging area in Butte College! Guy Fieri was no stranger to charity, it seems – and boy were people pleasantly surprised!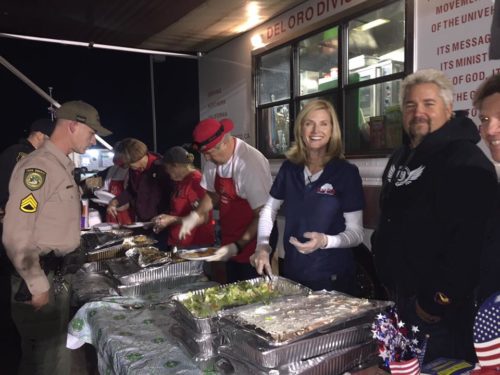 This past summer, Guy also teamed up with chef Jose Andreas to help feed evacuees and emergency crews located in Redding, California during the Carr Fires. A longtime resident of Santa Rosa, California, Guy could not bear to see states of devastation repeatedly blanketing his homeland. The Auburn Police Department gave a special shout out to Guy as they were extremely grateful for his generosity and aid. Their post read: "Thank you Guy for your time, support and great food!" Now that's human kindness right there!
Share this story!