Most people are happy to be spending time with little children because it's in the humans' nature to feel affection towards these tiny creatures as well as the urge to protect them.
But as it turns out, there are also people who harm young children. And one has to be really evil to hurt someone vulnerable and fragile as a baby or a toddler. 
Just recently, a case of child abuse about a step-grandmother who put the tiny feet of her step-granddaughter into boiling water and caused her severe injuries has left the whole country in shock. 
The reason why this awful woman from Tennessee did such thing was because she was simply having 'a bad day' when the girl was given to her to babysit her. 
Warning *** The article contains images some readers may find distressing!
The girl's feet were all covered in blisters and severe burns and she was in a lot of pain.
The incident took place on August 11 and that's a date that the family of sweet toddler Kaylee will never forget. 
#Tennessee woman accused of severely burning toddler's feet as punishment | Read more: https://t.co/OCCCzsib83 pic.twitter.com/CHhWnTugEr

— WFTV Channel 9 (@WFTV) August 20, 2019
The girl's mom, Brittany Smith, spoke of the incident and said how Vaughn admitted the cruel act and she's now being held on $150,000 bond and charged of several counts of aggravated child abuse. 
If convicted, this evil step-grandmother could be sentenced from 15 to 80 years in jail. 
The images of the toddler's feet disturbed the whole country and detective Rocky Potter of Rhea County Sheriff's Department described them as "the worst scald burns he's ever seen." 
"These were very, very disfiguring burns," Potter said. "It's among the worst injuries I've ever seen, even in training videos."
Sadly, even after the surgeries, Kaylee's condition doesn't get any better.
"It's terrible, it's just so stressful," the girl's mom said.
"Kaylee has had two operations so far, but they haven't worked. The skin is not really repairing itself in the way the doctors hoped it would. She's in a lot of pain.
"They [surgeons] are going to take some skin from her thigh next week to try and repair her feet."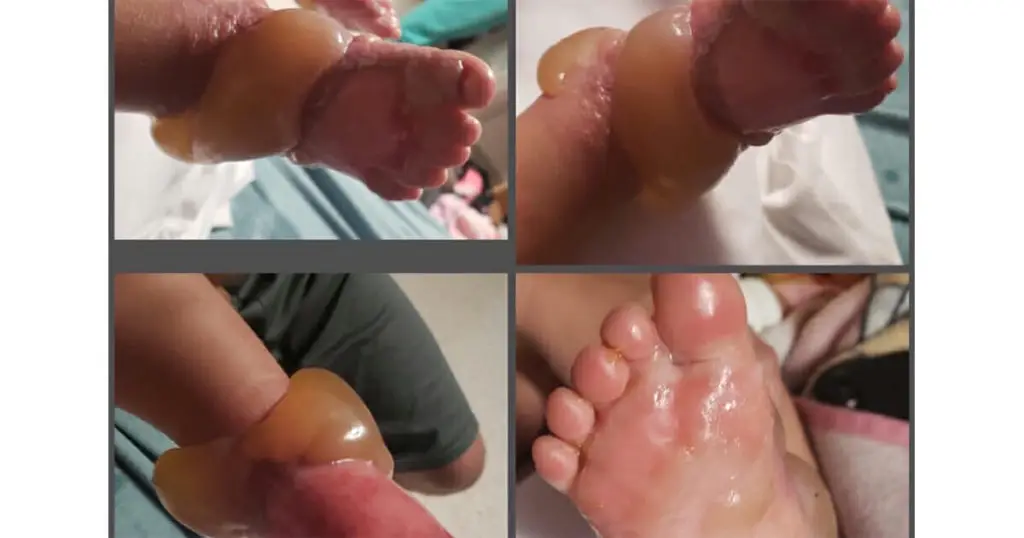 Smith recalls the day she decided to leave her daughter under Vaughn's care. She said how she did that because she had to take her two other children swimming and believed her fiance's mother would keep close eye on the girl. What she never knew was that that woman would hurt her girl instead.
Moments after she left Kaylee, Smith got a call.
"I could hear Kaylee screaming in the background," she said.
This is Kaylee Robinson, her mom Brittany Smith sent us these pictures. Kaylee's is on the road to recovery after Jennifer Vaughn allegedly dipped her feet in scalding hot water causing second degree burns. pic.twitter.com/NbHleSaKGz

— Claudia Coco (@ClaudiaCocoTV) August 20, 2019
"She said that I had to come home right away."
At first, Vaughn claimed how she left Kaylee alone in the bath for a couple of seconds and the girl injured her feet herself, but she later admitted she was the one who put her tiny feet into boiling water.
"It's not right," Smith said to ABC 2. "There is nothing in this world that a two-year-old can do, no matter how bad they lashed out at you."
We hope sweet Kaylee would be able to recover from the horrific injuries and that she will be able to put her ordeal behind once she grows older. As for the culprit, we hope she rots in jail.