Everybody loves Dwayne "The Rock" Johnson for he is an amazing father, possesses astounding acting skills, has a body to kill for, and wonderful sense of humor. He is named one of the highest- paid actors of 2018 by Forbes and we all agree that he deserved it! When the news about the arrival of his baby girl broke online, fans from all around the globe whipped themselves into a frenzy.
People wanted to see her adorable face, hear the details of her birth and feel like they were included in the process!
Thankfully, The Rock and his longtime girlfriend, Lauren Hashian, were more than willing to share tidbits of their family's latest edition online. But it was a recent video he posted with little Tiana Gia that's gaining even more attention than usual…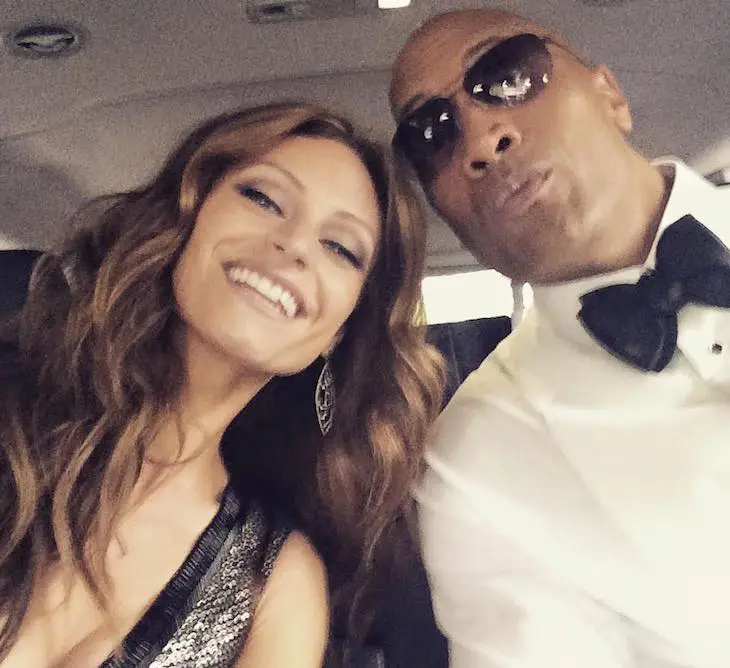 In the weeks following Tiana's birth, Dwayne told PEOPLE Magazine that watching Lauren go through labor was one of the most beautiful things he's ever experienced.
"I was right there during labor, helping her breathe, every highly intense contraction, every second of pain, right there watching the actual birth, cutting the cord and wiping the tears. Incredible. As men, it's a miracle we should witness because it'll give you a whole new respect for the strength and beauty of a woman)."
That instant, undying connection Dwayne with his baby – and the newfound admiration for Lauren – is something he'll cherish for the rest of his life. On good days and bad, he'll be there for Tiana and her older sisters, Jasmine and Simone.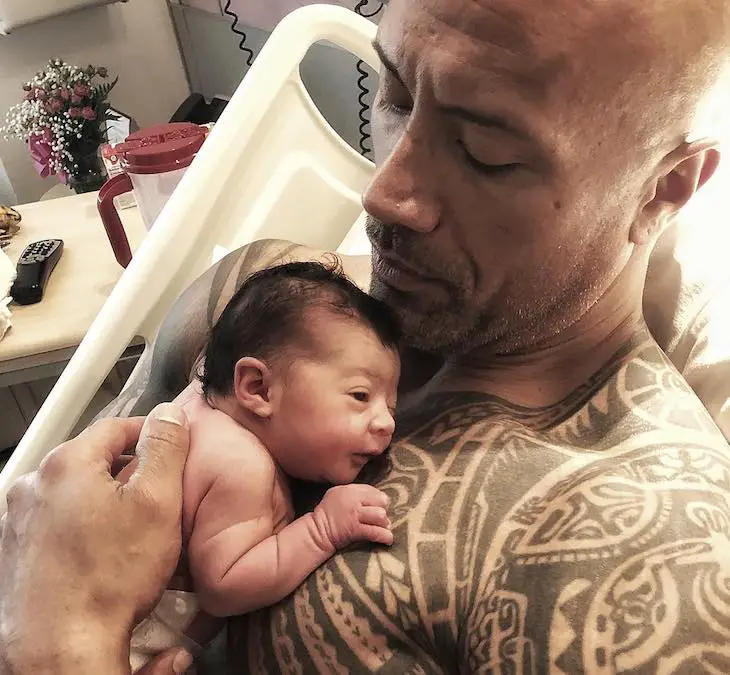 Since Tiana is so young, Dwayne makes a point of being home whenever possible. He loves to spend quality time with his baby girl more than anything in the entire world! One of these precious one-on-one moments was caught on camera recently when Dwayne pulled out his phone during playtime.
The mega-star actor recorded himself joking around with the toddler and asking her who was the best father in the world. He casually posted the video online with the silly caption:
"Me: I'm gonna just fish for compliments all day when I hold you in my arms.
Baby Tiana Gia: I'm gonna look up at you with my gummy smile and just love, appreciate and marvel at all this Daddy Goodness I see.
Hobbs [the dog] laying on the floor in the background: Holy [cow]! Please, Baby Tia, stop encouraging him! It's making me nauseated.
For the record, this is the same way I speak to Kevin Heart."
Within a few minutes, it seemed as though everyone in the world was liking and sharing the clip. Dwayne's fans loved to see the gentle giant playing with his baby girl and making time for family. Once you remove the fame and fortune, Dwayne's just another father who's totally enamored by his newborn.
These are the moments worth living for – and his hilarious sense of humor makes the clip even better!
Watch the video that taking the Internet by storm below. What a great father!
 

View this post on Instagram

 
What do you think ?
comments