Once in a while, you get to know about a customer writing something on a receipt that is downright rude, it's hard to believe it! There is a great sense of shock, its pretty unbelievable but it happens and it's so inconsiderate for the person that is severing them.
Thankfully most people out there are really not like that, not in the least bit. They really do want to share the love that most of us have for life and make everyone's day a little happier and brighter.
At the Tacoma in Washington, a restaurant that is part of the chain called 'Buffalo Wild Wings' there was a case just like this, not they were not being rude though it was the opposite!
The restaurant serves American-style dishes, and has a great selection of hot spicy wings that everybody who tries, loves! It's the kind of establishment where people can just go in, sit back, and get really tasty food to eat. The relaxed atmosphere that they exude is just awesome!
This one day, a staff member called Brian Avey was on duty, serving customers!
Just like a normal day he approached the woman, sitting alone, to take her order. She was there to have her lunch and ordered a sandwich and two beers, a Corona and a Blue Moon. Brian thought that was a bit odd, as she was on her own…
Brian told her politely that he was sorry that he wasn't able to bring her two beers because it was the restaurant's policy to serve one beer at a time.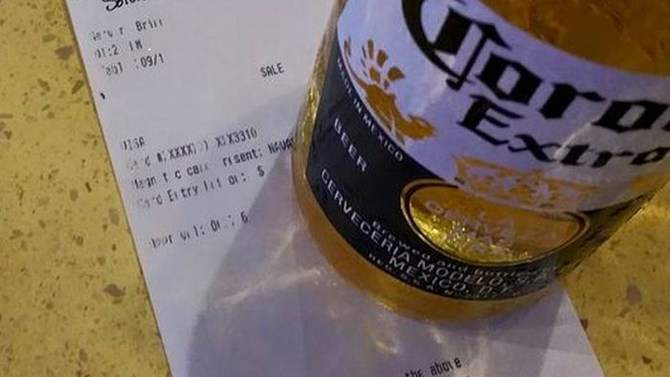 The woman told the server exactly, her intentions…
She had no intention of drinking two beers, in fact, she ordered the Corona beer for her brother, in his honor because he died in Iraq, fighting for his country. She would not even consider touching the second beer, it was symbolic and just her way to respect her brother.
Brian posted to his social media:
"I told her she could only do one beer at a time. She said the Corona was for her brother who died in Iraq. It just sat next [to] her at an empty seat her entire lunch. When I brought her bill, I told her Buffalo Wild Wings will be buying that beer."
The woman felt deeply touched by Brian's actions and decided to write him a note.
Brian not only waived the policy in the restaurant for the woman, very understandable don't you think, but in addition, he gave her the beer with compliments, so she wouldn't have to pay for it, what a great way to also show a sign of respect for her brother!
Before she left she got the receipt and wrote on it how she felt.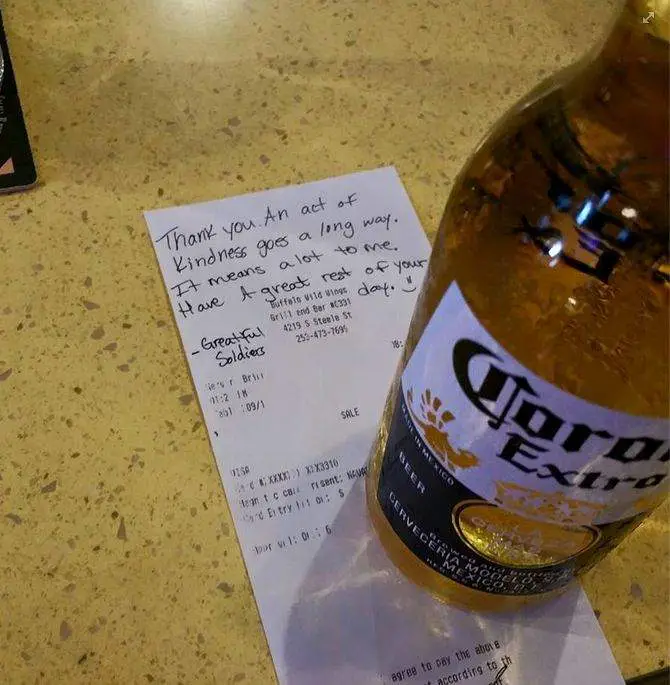 The note said:
"Thank you. An act of kindness goes a long way. It means a lot to me. Have a great rest of your day."
She signed off:– "Grateful Soldiers."
She felt that this kind act really honored all the soldiers that also fought beside her brother too, and had they been there they would have thought so too!
When the woman finished, she left and the beer remained on the table still, what would Brain decide to do with the beer….
Dumping it down the sink was really not on, and he felt like he wanted to do something more meaningful, so he put the beer next to the cooler to honor this woman's fallen brother, the beer was sat ceremonially next to an American flag!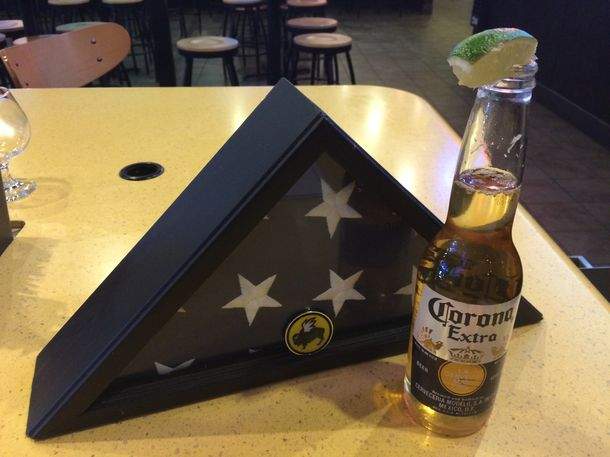 Brian's boss completely agreed with him, with one little proviso, he said to be sure to change the lime for a fresh piece every day, in remembrance of the soldier.
This story just goes to show that a little bit of kindness really does go a long way. It just shows that a little bit of kindness goes much further than you can imagine!
Share this awesome story, inspire your friends and pay forward something for someone else!