Family bonds are really the strongest that exist between us humans, especially the bond of a parent, and in this case the bond of a father and daughter. So father to father when we can really relate to this bond that exists, that's exactly what happened one day between two fathers in Orem, Utah.
Appearing a the courthouse for a traffic ticket he got one day, Jose Moncayo, had desperately looked for a babysitter for his two year old little daughter, Abi. He wasn't having any luck at all that day, in fact, he couldn't get a babysitter for love nor money, …or could he?
Well actually in this case, not for money but for love! As he had no choice but to bring his daughter to the courthouse, the two of them waited to appear in the court. When the time came to go into the courtroom Jose had the realization that he would need help.
As Jose waited for his turn in the courtroom Abo explored the hall where they were waiting, as much as she could anyway. She just couldn't sit still beside her father and the whole building seemed like it was her play area! As she explored it as far as she was allowed.
The time came and Jose was to appear in front of the judge, he was really in a tight spot, he wasn't allowed to take Abi into the courtrooms with him. On the other hand, he couldn't leave her there either, he didn't know what he was going to do, until a hero stepped in.
The Officers of the police department saved him. He said he would watch Abi while Jose was in court, the officer who stepped in went by the name of Officer Norris and previous to him stepping in he had been watching the father and daughter while he waited to give hos testimony.
The Officer, seeing the situation Jose was in, he was very happy to help!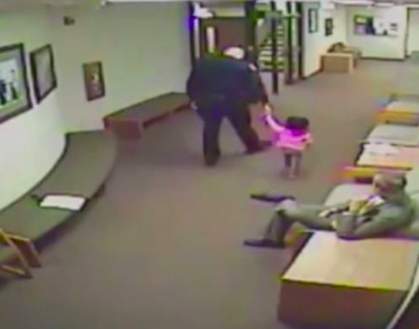 Officer Norris said:
"I've got kids myself"
"I know what it is to have rambunctious kids, and it's hard to take them anywhere."
The Officer held the girls hand, exhibiting some really great parenting skills, he showed her around th building to keep her occupied, lade sure she drank water, stayed hydrated, and she even got treats from the deputes of the court!
What was going to be a serious problem turned into a great day for Abi!
The young girl did eventually feel a little low on energy, Officer Norris sat with her and looked at some cartoons together on hos phone, she sat on his lap, clearly the Officer was in the little girls trust.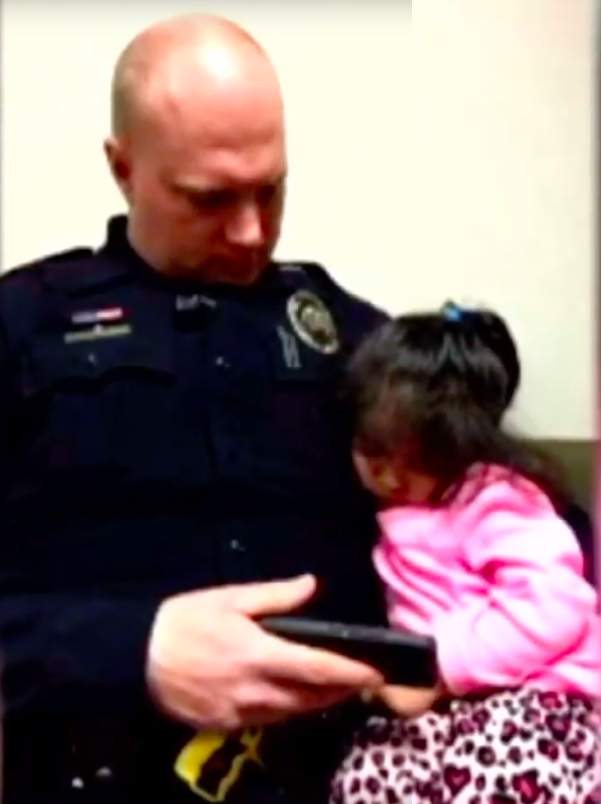 By the time Jose calm out of the courtroom his little Abo was asleep on the Officer, what a really great example of how these Officers really do care about the people around them.
Officer Norris said:
"We're not just officers who are out there to arrest people"
"We're out there to make our community a better place."
This officer really did make a positive difference by helping a fellow father who needed a helping hand.
This man certainly made a difference by stepping in and helping a fellow father in his real time of need. It is really lovely to see genuine people helping each other out like this, such great community spirit.
Please SHARE this with all your friends….