How much money are you willing to pay for a sandwich? We all know all too well that this fast-food speciality is many people's favorite, and that includes a woman named Jessica Lee from Australia. Little did this woman know, however, that her half-eaten Subway sandwich would cost her $2,534.
If you wonder how this is even possible, stay with us and hear this woman's story.
As it turns out, Lee was taking a flight from Singapore to Australia when she felt like having something to eat. So, she got herself a sandwich while transiting through Changi Airport. She ate half of it and decided to keep the other half in case she got hungry again. What happened next is crazy, to say the least.
Exhausted and eager to get back home, she totally forgot about her sandwich. So, the moment she landed in Australia, she was given a A$2,664 (S$2,534) fine because according to the Australian Border Force, food items brought into Australia have to be declared on one's incoming passenger card and they might also be inspected by biosecurity officers.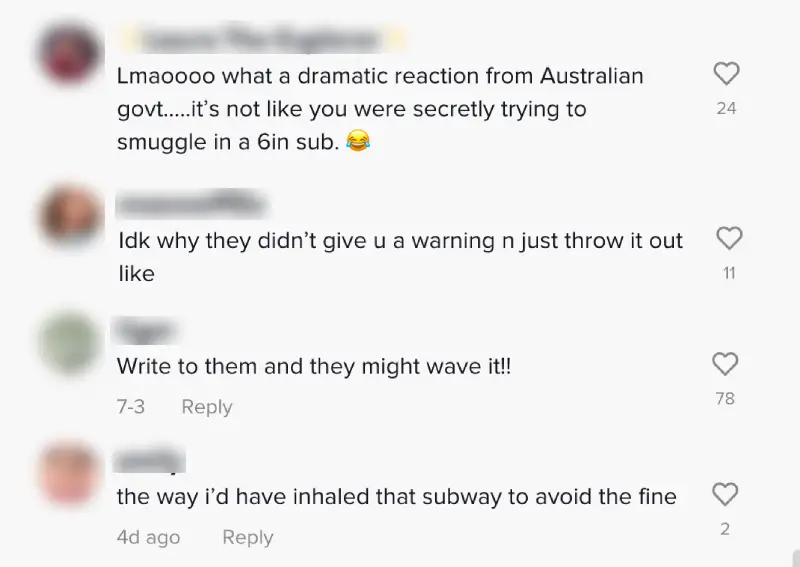 Passengers who fail to declare or make false declaration may face a fine of up to A$2,664 for breaching the Biosecurity Act, a spokesperson for the the Department of Agriculture, Fisheries and Forestry in Australia told News.com.au and added that "All meat products and vegetables must be declared on the Incoming Passenger Card," calling it a legal declaration.
The spokesperson explained that passenger are reminded of this by the messages printed all over the airports.
Lee, however, said she didn't feel like she did anything wrong.
Apparently, the problem with Lee's half-eaten sandwich was that it contained lettuce, which is fresh produce.
Once she shared a video in which she spoke of the incident on TikTok, it vent viral and many believed she didn't deserve to be fined. Lee on the other hand admitted that it was an oversight on her part and said, "I am very aware this is my mistake and I do take ownership, I am paying the fine. Just an emotional video." 

As the story went viral, it reached to Subway Australia after someone tagged them in the comments and just days latter, the company "worked magic" and sent Lee a package containing a A$2,664 (S$2,534) gift card, along with some Subway merchandise.
"We hope this covers your chicken and lettuce needs," the company wrote.
What are your thoughts on this? Please SHARE this story with your family and friends on Facebook to see what they think.
Bored Daddy
Love and Peace