Hollywood is the place where dreams come true, but it is at the same time a place where many dreams are crashed.
Over the years, a huge number of actors and actresses experienced the Hollywood glam, but not many were destined to stay there for long. Those who did, however, left a mark and even changed the industry forever.
One actor who made an impact and then somehow faded out of the spotlight is Val Kilmer.
Born on December 31, 1959 in Los Angeles, to parents who were not in any way related to the acting business, Val showed immense talent for acting from very early age. He attended Chatsworth High School together with Kevin Spacey and Mare Winningham and then the Hollywood Professional School. Val became the youngest ever person at the time to be accepted into the Juilliard School's Drama Division in New York.
After Juilliard, young Val found himself conquering the New York City theater scene. What followed were some roles in blockbusters, and eventually, he ended up being part of some of the most iconic movies such as Top Gun, where he starred opposite Tom Cruise. This movie helped Val make a name for himself almost overnight. All of a sudden, everyone was obsessed with this young actor's charming looks and undeniable talent.
During the 80s, Val starred opposite Michelle Pfeiffer in the ABC afterschool Special One Too Many. Rumors were that the two were a thing, but neither ever denied or confirmed that. Val, however, wrote a song about her titled "The Pfeiffer Howls at the Moon," which only made the magazines speculate about their alleged relationship even further back in the day.
On the set of Willow, in 1988, Val met his future wife, actress Joanne Whalley. They had two children together before they decided to put a stop on their marriage eight years later.
"You just don't understand humility until you have children and get divorced," Val told Elle magazine about the divorce.
"I was very hurt and very angry and so was she. But when kids are involved, you either become friends with respect or you become mortal enemies."
In 1991, Val played the iconic role of Jim Morrison in The Doors. He provided the vocals for the movie's soundtrack, showing the world just another talent of his.
Others movies that followed and marked Val's career, among the rest, are Tombstone, True Romance, and Batman.
In 2015, Val underwent a surgery due to throat cancer and lost his natural voice. When asked what he truly misses about his old voice, he said, "That I had one! That I didn't laugh like a pirate."
Sadly, he's still suffering consequences from the cancer treatments.
Val was supposed to appear in Disney+'s relaunch of Willow, in which he would have reprised his 1988 portrayal but his health prevented him from doing so.
"As COVID took over the world, it became insurmountable," showrunner Jonathan Kasdan explained. "We were preparing in the spring when it peaked. Val also resisted the urge to speak up."
"We had to figure out a way to keep the story we wanted to tell him about how his journey was unfolding," he added.
"I remember seeing Val shortly after this thing started and telling her, 'Listen, we're doing this, and the entire world wants Madmartigan back,'" Kasdan continued. "Not nearly as much as I do."
"As I walked away, he hugged me. 'I'm still very strong,' he said as he lifted me. And I thought to myself, 'Wonderful.' We began planning his appearance in the first season. To be honest, we couldn't get him until late in the procedure."
When he learned of his cancer diagnosis back in 2015, Val refused to receive treatments because he believed his Christian Science faith would cure the tumors.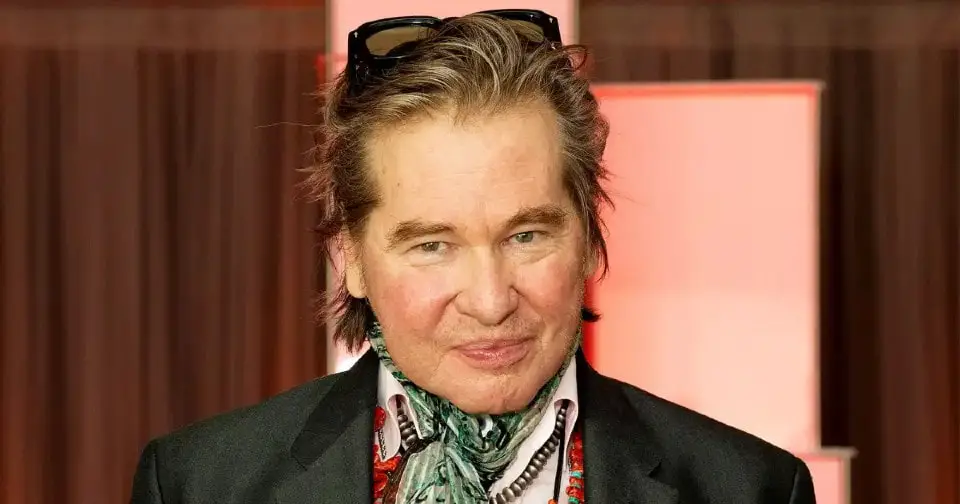 He also didn't share the news of the devastating diagnosis with the public until 2017.
"I've been cancer-free for more than four years now, with no recurrence," he claimed in I'm Your Huckleberry. "I am deeply grateful."
He also spoke of the devastation over losing his voice, adding that painting helped him cope with the situation. "My creative juices were boiling over and pouring out of me, but I had no voice to express them. I rediscovered my creative side and began writing and drawing again. Art provided me with a healing experience."
Please SHARE this article with your family and friends on Facebook.
Bored Daddy
Love and Peace