Quite rightly, as youngsters, the majority of us were taught to respect others, our elders, and people who are vulnerable in some way. That applies to those that have a mental or physical impairment just as much as it also goes for the able-bodied too.
This terrible news comes from Suffolk in England, there is a photo spreading like fire burning through the internet, and for a really good reason!
This 40-year-old woman with a mental disability is pictured in the image, abused by these four teenagers, also in the picture.
Looking at the reports on the British News, the four teenagers threw eggs and flour over the lady, who is mentally handicapped, then posed for a picture behind her as she was slumped over the park bench.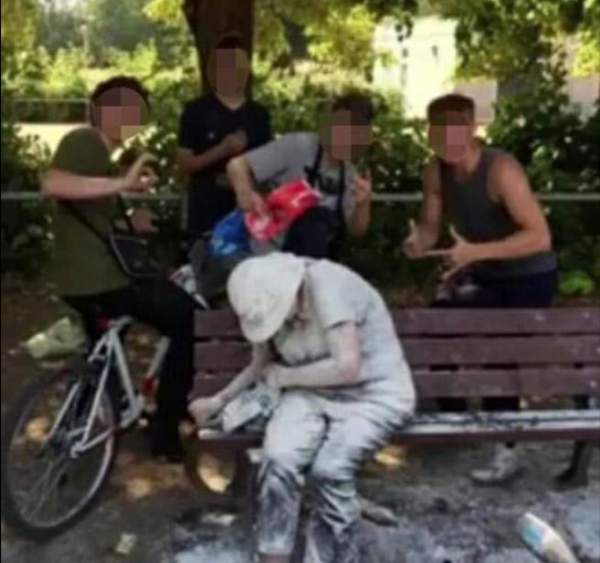 The woman in the picture is around 40-years-old and she suffers from a mental disability, we hope that the law will deal with this situation appropriately!
A witness said that the woman had a breakdown, which is hardly that surprising considering her ordeal that day, she started to shout at the boys who sprayed her with water, flour, and eggs.
The local police said that the woman was severely distressed by the whole thing and that she was not physically harmed.
One of the youths decided, in his even more foolish, or perhaps some would say a twisted view of reality, that he would post the photo to social media, to Snapchat.
He was perhaps expecting to get either adulation or laughter, but instead, like most of us would expect, he was met with a huge backlash which leads to him being visited by the law!
The news reports that the four teens have been taken in for questioning, they range from 15 to 17 years old, the person who took the photo has so far not been named or identified.
Inspector Anthony Bridgland said:
"This type of behavior is totally unacceptable and we are treating the matter seriously."
"We know this incident may have caused concern and anger both in the local community and online, but we would like to reassure everyone that we are tackling the matter robustly and supporting the victim."
Just hearing about this incident made my blood boil, and we know that many more people feel just the same way too.
Please SHARE this post and sham this awful act, this behavior is really not acceptable and there really must be consequences for their actions!