The general rules are that if a child wants to visit the bathroom or the nurse's office during lesson time, they should ask their teachers for permission. And although some students tend to abuse their right to excuse themselves in order to embark on 'adventures' around the school halls, most only ask for permission when they really feel the need to go. 
One teacher named Mrs. White from the Aspire Hanley Middle School, a charter school in Memphis, Tennessee, decided to come up with her own rules when it comes to taking bathroom breaks. Needless to say, parents were outraged about what she had to say. The mom of one of Mrs. White's eight-grade students shared the note her kid brought home and it spread all over the Internet like a wildfire. 
Namely, Mrs. White wrote how her students are only allowed to two bathroom breaks a month during her lessons, and that's it.
In case they leave the classroom more than that, then they get either a detention or zero points on the assignment they decide to walk out on. 
What's most, she even confirms she is petty.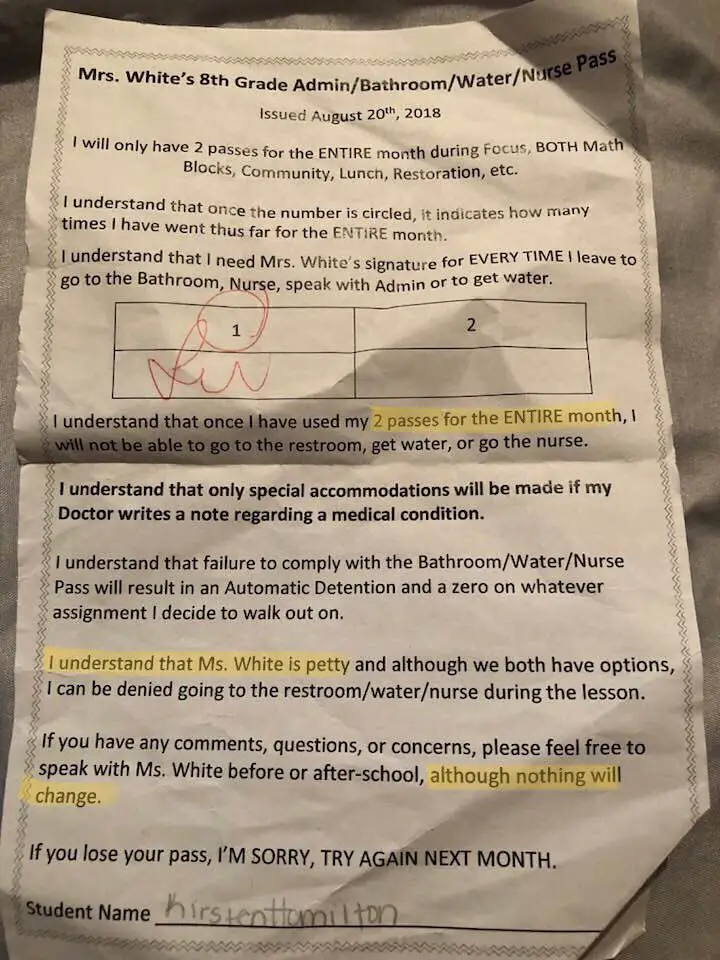 She then goes on and writes how her students can speak to her about the rules, which we believe are pure nonsense, but nothing will change. 
And in case a kid loses their pass, she says, "I'm sorry, try again next month." If this isn't the purest form of cruelty, I don't know what is. 
Once the original photo was deleted, other parents came forward and posted it again. Many people took their stand against this teacher and shared their opinions about her rules which are not in accordance with the school rules whatsoever. 
"This shows someone with control issues who has no power or authority at home, so they bring what little power they have to the one place where they will have no resistance: the classroom," said a person named Jaadee Sykes, who shared the note on her Twitter and referred to it as "abhorrent."
However, when the superintendent of the school, Nickalous Manning, heard of this from Facebook, he asked for an investigation to be completed. 
"There is no policy in place at our school that restricts students' access to the bathroom or to the nurse's office," said Altovise Boyd, the regional director of the charter school. Further, he added the school has "convened [the] full team to review all relevant policies and procedures."
"Yes, lets all make poor children hold their bladders bc them going to the restroom is a nuisance for you. My child has my permission to walk out of whoever's class if they tell him he can't go," one mom tweeted showing her outrage. 
There were also those who supported Mrs. White, with one of them saying, "My god, people. Teacher makes a mistake in handling a situation that is obviously very frustrating for her and you folks are prepared to destroy her." 
Honestly, I would be really angry in case my kid comes home with such absurd note. How would you react?