I remember those days when I could just go shopping all by myself or accompanied by my girlfriends. Those would be fun times indeed. Trying things on, or buying groceries we'd love to make delicious dishes with. 
But now that we are all moms, doing shopping is something we don't really enjoy. Why? Because it has to be done really quickly, or the kids would start throwing tantrums. You know, they don't really find it appealing walking around the aisles without touching every single thing. 
A mother named Stefanie is well too aware of the troubles young kids are making while at the store, so she wasn't really looking forward to the trip.
Stefanie needed to grab some stuff so they visited Target. While there, she thought it would be nice if she bought her little Evallyn some toys that she loved. Needless to say, she really had fun buying her dolls, but once mommy turned to the products she needed, Evallyn got bored and became restless. 
Her mother was doing her best to get everything from her shopping list as fast as she could so that the two could head home. 
And just as this woman though this was one of her most unpleasant shopping trips, something amazing happened.  
One of the Target employees could see that Stefanie needed help so she stepped in and tried to entertain lovely Evallyn. She got the little girl's attention by inviting her to a dance-off. Knowing how competitive young children can be, this was the best idea A.J could come up with. 
Both A.J and Evallyn showed some really crazy dance moves. It was obvious they had so much fun doing this. Customers would stop by and watch the new friends dancing and everyone though this was very sweet.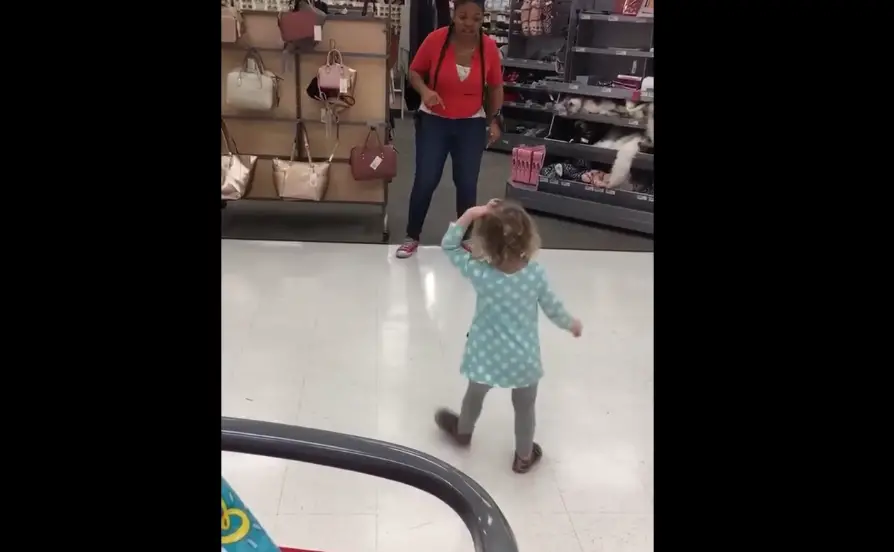 Once the 'dancing competition' was done, A.J asked the girl if she was in for another round. The girl was more than happy to show off her skills once again.
Stefanie was amazed by the employee's kind gesture. She couldn't really finish her shopping because this was way too good to miss, so she just stood there by the cart and knew she had to film this very special encounter.
What was supposed to be just another tiring day turned into an experience these mother and daughter will never forget. It may be just a dancing with a stranger, but these kinds of interactions usually have strong positive impact on children.
It is so nice to hear of stories like this where random people make someone's day. 
Take a look at the cute dance-off in the video below.