At the age of 69, Pierce Brosnan, the James Bond star, still looks as stunning as always. Among the rest, it is his charm and down-to-earth personality which make fans from all over the world fall for him.
Recently, however, the actor shared some photos on his social media that caused quite a stir as he looks completely unrecognizable.
Namely, the star is filming his upcoming movie The Last Rifleman. According to Singer Studios, Brosnan would be portraying the role of 89-year-old Artie Crawford, a World War II veteran living in a care home in Northern Ireland who has just lost his wife.
As he wrapped up the shooting, Brosnan thanked his team, and called working with them "a dream." Along with the heartfelt message, the actor shared photos dressed up as his character. Rocking a bald grey wig with matching eyebrows, he looks unrecognizable.
Earlier, he posted photos of the last day of shooting in Normandy and wrote, "Final day of filming at the Bayeux Cathedral in Normandy on 'The Last Rifleman' Playing Artie Crawford, 2nd Battalion Royal Ulster Rifles , retired, 92 and 3/4 years old. …six glorious weeks in Belfast in the company of great filmmakers. That's Emma on the slate. Thank ye one and all Dear Belfast enjoyed every days work."
It looks like he managed to combine work with please as he was spotted visiting places and surprising fans.
Adam Stockman, a restaurant owner shared with Belfast Online that the James Bond star enjoyed a meal at his restaurant, saying, "He's literally just landed in NI, the first time he's ever been in the country, which I was surprised about myself.
"He came in for lunch along with his personal assistant and he had a lovely couple of hours with us. He was friendly and chatting to customers and staff and he went across to chat with some ladies at table, had the craic with them and had a few photographs taken."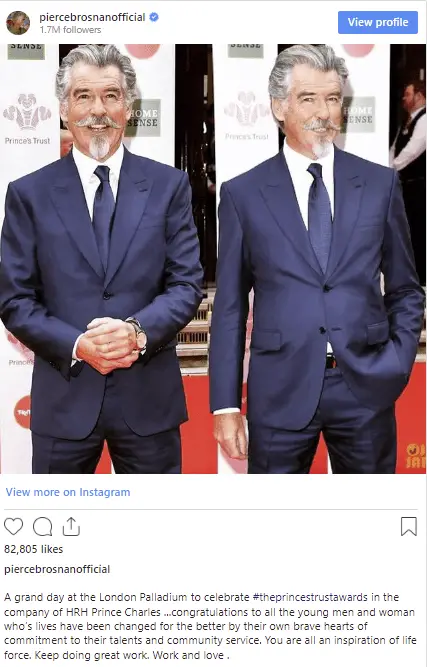 Local residents said the actor showed some special 'Irish charm.'
Please SHARE this story with your family and friends on Facebook if you too are a fan of the great Pierce Brosnan. We are looking forward to his latest movie.
Bored Daddy
Love and Peace