One year on the holiday season Bobby Puryear was passing through, he went to the ATM to get some cash but discovered that there was a bunch of money already left in the tray! He was shocked and knew straight away what he was going to do…
He thought that someone had left it behind so he picked it up and realized that there was $500 there. That was no small amount at all, we have heard to saying before right, finders keepers, losers weepers…..
Well, it's not a very nice expression at all, certainly not in this case anyway, there is almost definitely something the bank can do to find out who it belongs to!
He really wanted the money to find its way back to its owner so he drove around to the bank to speak to someone that could help him! When he got to the bank he told the teller he had found the money and what had happened?
He wanted to give her the money but she wouldn't take it, instead, she called for the manager!
When the manager came he just asked him what he expected him to do with the money?!?
Puryear was really baffled, surely he was having a weird dream right? No, he asked if they would check who used the ATM just before him so they could return the money….
The manager then agreed and Puryear shared to Facebook, the manager had Puryear's number to contact him also.
The very next day after this he got a call from the bank, while he was working, they found the owner of the cash!
He was on a three-way call with the manager and the 92-year-old lady called Edith who had lost the money. Edith drew the $500 for her monthly rent and without it, she would have been both upset and lost, what an awful thing to lose $500 especially considering her financial situation!
Edith was so grateful that she wanted to give Puryear the $20 that she didn't need for her rent, as a reward… That was all the money was left!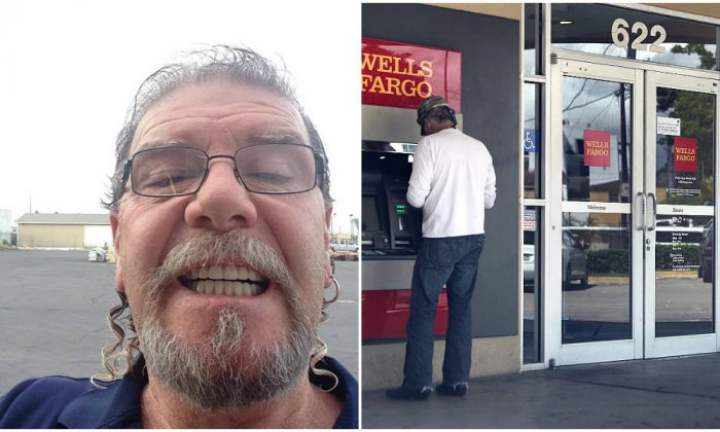 Puryear said:
"I told her absolutely not, and have a great day"
When he came off the phone he realized that she only has this for the rest of the month; just $20! That really didn't seem right at all…
Puyear called the bank manager again and told him to transfer $200 from his account the elderly lady's account, how lovely!!
As he was speaking to the bank a co-worker overheard what was going on, the whole story and felt touched too, they also contributed to the elderly lady, he told Puryear he wanted to give $100 too!
Puryear felt touched that another person felt like that too, but he didn't realize that this was just the beginning….
About an hour on the bank called Puryear again, it was the manager again, who told him that he shared the story with all the tellers and they too grouped together and put in another $300 too!
Puryear said on Facebook:
"So today was a good day …Merry Christmas a little early, Edith."
This guy's simple thoughtful act of kindness of returning the money from the ATM to the rightful owner turned into something much bigger and even nobler.
All this was posted to Facebook and it has been shared over 180,000 times all around the world, how awesome!
Puryear went straight to Facebook to explain his actions, in today's world where many people just seem to look out for themselves then this act is even more gracious and inspiring to us all!
This small act really touch everyone who read the story because it was so genuine and kind!
Puryear said:
"I mean, this is just something small, but just think if everybody would just do something kind for someone every day …Imagine what this would be like."
To Puryear $200 was a lot of money and quite a big deal to him and he couldn't do this very often at all, but as he wrote he just couldn't stand the thought of this elderly lady cold or not being able to eat!
If you love this story as much as we did then SHARE with friends and family and inspire others!