Dubbed the "Queen of Pop" and regarded one of the most influential figures in pop-culture, Madonna only moved up in her career throughout the years and is still the idol of many generations.
However, what attracts the attention of many is her looks, which has changed drastically with time.
At one point, people taught she simply defies age because her face and skin looked flawless, but recently, many agree that the pop star doesn't resemble herself any longer.
"If they call you shocking, scandalous, troublesome, problematic, provocative or dangerous, you are definitely onto something," the Queen of Pop declared. #Grammys https://t.co/y1OzKpY1Jq

— HuffPost UK (@HuffPostUK) February 6, 2023
Madonna caused quite a stir because of her appearance when she attended the 2023 Grammy Awards to introduce Sam Smith and Kim Petras' performance of their hit collaboration, Unholy.
The Like a Virgin singer used her time on the stage to give a shout out to all the fellow "troublemakers and rebels" of the world.
"I'm here to give thanks to all the rebels out there, forging a new path and taking the heat for all of it. You guys need to know all you troublemakers out there you need to know that your fearlessness does not go unnoticed," she said.
"You are seen, you are heard, and most of all, you are appreciated."
Many people took to the social media to share their thoughts on Madonna's looks and ask if the 64-year-old had undergone cosmetic surgery, which the singer said was rooted in "ageism and misogyny."
Some of the comments were, "If they didn't announce that was Madonna I'd have no idea who this person presenting at the Grammy's was. JFC," and "I love and respect her as [a] music icon, but this just broke my heart." Another user wrote, "#GRAMMYs I really wish Madonna never touched her face. There really was no reason. She was going to age beautifully. She's always been beautiful. #Stopplayingwithyallface#Grammys2023#Madonna."
I'm all for cosmetic surgery but @Madonna should have left her face alone after her last lift. Her hair, makeup & eyebrows make her only look worse. The mother of reinvention needs an intervention. And yes, I'll be paying 1,300 to see her at MSG this summer. #GRAMMYs pic.twitter.com/PGIN5nNrfa

— Damon Gonzalez (@TheyCallMeDaymz) February 6, 2023
Some fans even included other videos and TikToks of Madonna to support their belief that her appearance has changed drastically.
In December of last year, Madonna posted a video of herself and one particular snap of it went viral and was shared by many people who agreed that one of the most recognizable faces of the past century is now practically unrecognizable.
Madonna was quick to answer back. In an Instagram post, she wrote, "It was an honour for me to introduce Kim Petras and Sam Smith at the Grammys," she wrote. "I had wanted to give the last award which was album of the year, but I thought it was more important that I present the first trans-woman performing at the Grammys – a history-making moment," she wrote.
Me attempting to ignore the fact that Madonna has a whole new face. #GRAMMYs pic.twitter.com/ZsNJzfRNdK

— Petty Pablo (@electricsoul123) February 6, 2023
"And on top of that she won a Grammy!!" she continued, referring to Kim and Sim.
"Instead of focusing on what I said in my speech which was about giving thanks for the fearlessness of artists like Sam and Kim, many people chose to only talk about close-up photos of me taken with a long lens camera by a press photographer that would distort anyone's face.
"Once again I am caught in the glare of ageism and misogyny that permeates the world we live in. A world that refuses to celebrate women pass [sic] the age of 45 and feels the need to punish her if she continues to be strong-willed, hard-working, and adventurous.
"I have never apologised for any of the creative choices I have made nor the way that I look or dress and I'm not going to start."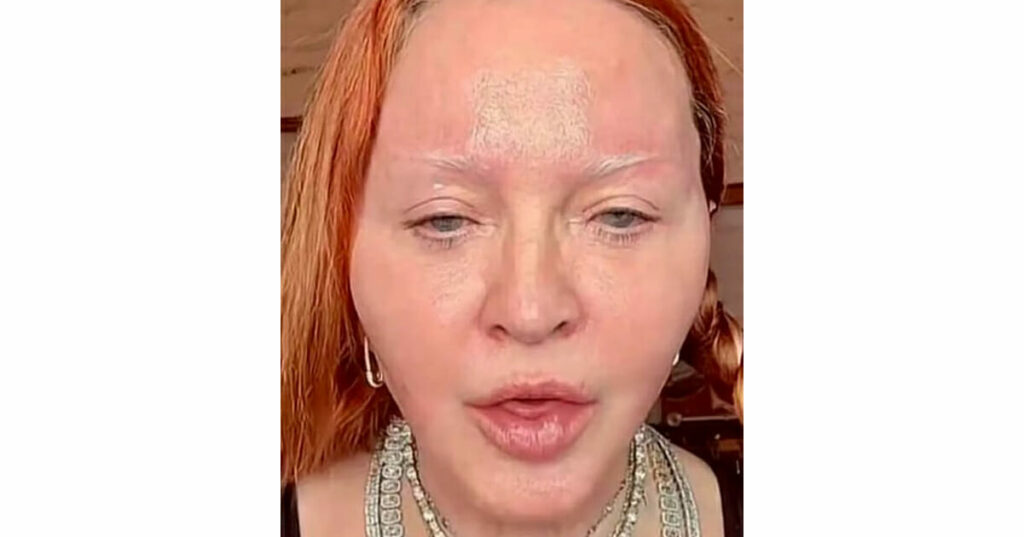 She then concluded her post with the words, "I look forward to many more years of subversive behaviour – pushing boundaries – Standing up to the patriarchy – and Most of all enjoying my life.
"Bow down bitches!"
What do you think of Madonna's latest public appearance and her 'new' looks?
Please SHARE this article with your family and friends on Facebook.
Bored Daddy
Love and Peace