This nine-year-old boy managed to beat the odds in his battle against cancer, just long enough to get to see his newborn sister and pick her name before he sadly passed away, his parents describe his heartbreaking story…
The doctors discovered cancer in Bailey's body quite late, so, unfortunately, they could only say that he had just days or weeks to live.
The young boy was completely set in his mind that he would fight cancer, held on to his life for a hard and challenging fifteen months, he had round after round of treatment…
It was Christmas Eve when Bailey passed away, he was with his parents Lee and Rachel Cooper, they were at his side, but not before he got to see his newborn sister, he named her Millie.
Bailey's troubles started in the summer of 2016 when he was taken ill and got medical attention. The Doctors thought he might have had some kind of virus, but when it didn't get better they gave him antibiotics for a chest infection.
His condition just continued to get worse…
His blood test results were completely devastating, has was diagnosed with non-Hodgkin lymphoma, it was cancer, it affects the vessels of the glands in the body.
He was started on chemotherapy and steroid medication and in February of 2017 cancer went into remission, it seemed like there was a glimmer of hope and he might recover.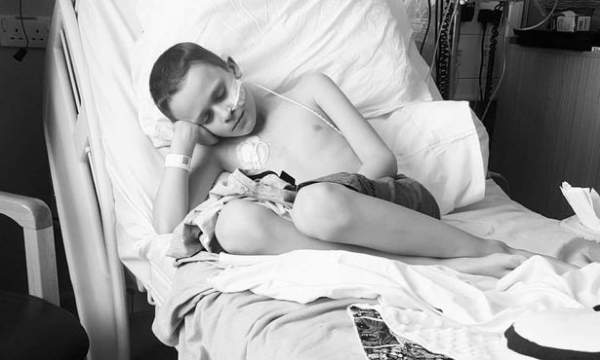 The bay's father said:
"They thought there were no more signs of cancer …He started back at Stoke Lodge school and from then we were home."
"He had to go in for regular check-ups and routine MRIs every three months, but things were looking up."
It came to easter time, the doctors called his parents, there had been a relapse and he had to return to hospital again.
Bailey was reassessed, the doctors said that he had a seventy percent chance of survival now.
He father said:
"He went into chemo again …The doctors threw the book at it, and told us even if he survived it, the long-term effects will last for the rest of his life. He had a stem cell transplant."
Bailed bravely battled the disease and towards the end of July, he had recovered enough that he could leave the hospital again and spend some time with his family.
Baily's mom said:
"We had six weeks at home with him that summer. It was amazing"
Towards the end of August again there was a relapse. But this time around the cancer had returned even more aggressively than previous times.
The consultant Doctor said:
"It's at stage four, and it's even worse. It's very aggressive."
There were sizable lumps in his chest, inside his lungs, his liver and his stomach, it was extensive!
His father said:
"She told us there wasn't very long left—it was only days or weeks"
Bailey was determined and he battled as hard as he could, he was determined to meet his little sister, she was due in November.
His mother said:
"Those three months were absolutely horrendous. We knew he didn't have very long, and we tried to enjoy whatever time he had left"
Bailey's situation deteriorated and he had to go on pain medication.
His mom said:
"We didn't think he would last that long, but he was determined to meet Millie. It got to the end of November, and Millie was born."
"He hugged her and did everything an older brother would do—change her, wash her, sing to her"
"But week by week, he got dramatically worse. He would be down and sleeping on the sofa a lot, and sometimes in bed unresponsive. It was difficult."
His father said the doctors predicted that he wouldn't last until his sister would be born but Baile had a different idea about that!
His father said:
"Doctors said he was going to go before Millie was born. He didn't. He fought, and on the way to hospital, he said we should call her Millie"
"But the moment after he met her, he began to taper off quickly. He was slipping away."
Dying boy, 9, kept fighting long enough to meet newborn sister and pick her name https://t.co/SfjeplgCpP pic.twitter.com/fMTH0XOZ6Z

— Daily Mirror (@DailyMirror) January 12, 2018
Bailey was taken to the hospital on Friday, Dec. 22.
His mother recounted:
"We sat there hour by hour, watching him slip away. We read him stories, and listened to his favorite music"
"By 11:45 a.m. on Christmas Eve, we were by his bedside. We knew it was not going to be long. We told him 'it's time to go, Bailey, stop'."
"The moment we said 'stop', he took his last breath and had just the one tear come out of his eye. It was peaceful."
Baliey's parents managed to share their final moments with their son, they said that in those final moments he said something extraordinarily touching about his little sister, just before he was taken to the hospital.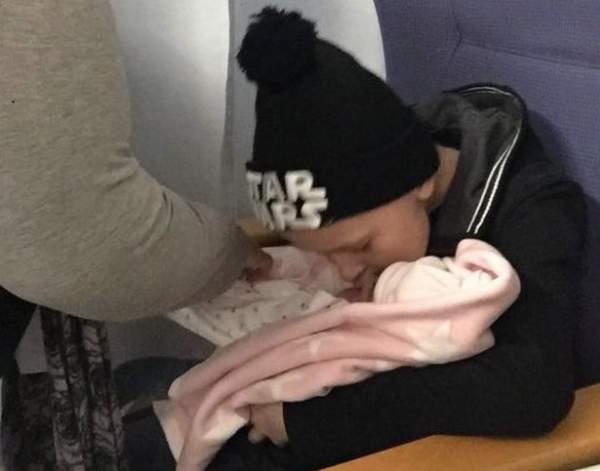 Bailey said:
"I want to stay but it's my time to go to become her guardian angel."
Rest in peace little man we wish you peaceful happy days in heaven, you were so brave, our thoughts rest with you.