Shopkeepers in in Lyndhurst, Hampshire, chased down suspected thief
He allegedly stole a briefcase from a neighbouring business and they took chase
Man gave himself up and was detained by townsfolk for 40 minutes
But police were too busy with 'higher priority' jobs to come and help
They blame cuts to police forces for there not being enough officers on duty
Have-a-go heroes who chased and caught a suspected thief were forced to let him go because police they were 'too busy' to arrest him.
The shopkeepers were bemused to be told by a police control room operator there was no-one to send despite the village's police station being less than a mile away.
The business owners detained the man for up to 40 minutes in Lyndhurst, Hampshire, before releasing him.
Two of them were landlord Tony Phillips, 58, who runs the Mailmans Arms pub in the high street with his partner Louise Hodgkins, 47.
'I held him there and held him there and held him – by the end my arm was dropping off!' Mr Phillips said.
Hampshire Constabulary blamed its non-appearance on higher-priority incidents it was responding to at the time, including a search for a missing person.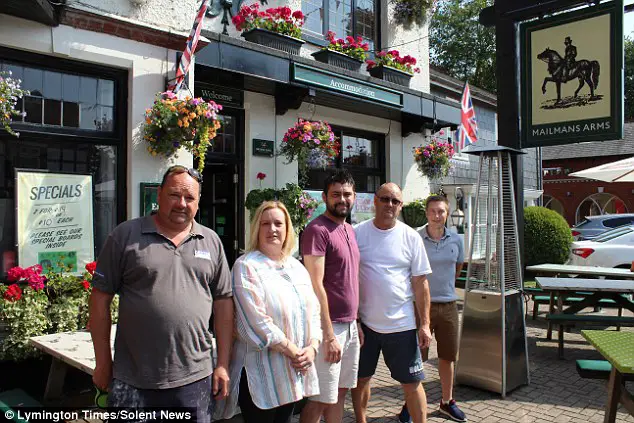 It also highlighted warnings from Chief Constable Olivia Pinkney that the force is more than £47 million short of the funding it should get and is lobbying the government for 'fairer' finance.
Mr Phillips said the incident showed a wider failure with public services rather than a particular fault by Hampshire Police.
'This is what happens when you stretch all the services,' he said.
'The government and the Prime Minister are to blame as they're making cut after cut to the police, ambulance, fire and health services.
'I actually don't have a problem with them saying there were other priorities at the time.'
Mr Phillips said just after 4.30pm on June 22, a worker from the Meridien Modena Ferrari dealership adjacent to the pub ran over to him and said a briefcase had been stolen from their premises.
Word quickly spread that a shoplifter may be about, and when the suspect was spotted walking down the road, a group of around 10 people, including the village butcher and Mailmans Arms chef Marius Costea, 33, gave chase up the high street.
'When I was running down the road he was throwing watches and hats and everything he had pinched,' Mr Phillips said.
'We cornered him, and he could not get away, so he gave himself up.'
Plumber Mike Kinna, 50, left his drink and dog Poppy with the pub landlady and also went to give chase.
'It sounded as though the police did not want to know [about the suspected thief],' he said.
Witnesses said the suspect had small grocery-style bags with him, filled with clothes and children's shoes, two charity boxes, watches and a hat.
'I'm not going to stand here and b***h about the police – but I will b***h about the government and the cuts,' Mr Phillips said.
'As time goes on I can see there being a civil war in this country. As for Theresa May and the way she's cut police numbers, I have no confidence in her. Nothing will change.
'The cuts are across the board and affecting everywhere. Rural places like the New Forest will just get worse and they won't do anything.'
Ms Hodgkins, who has run the pub for 20 years, added: 'They said they were too busy to come and arrest the guy.
'We have got bobbies who walk around here sometimes, the community officers, but the area they cover is massive – it goes from Brockenhurst to Fordingbridge and everywhere.'
Aaron Page, who runs gift shop Pages of Lyndhurst, was one of those who dashed outside after seeing a commotion.
'We are a little, local community here and we help each other out however we can,' he said.
'The problem is now people like him know if they come into Lyndhurst and steal something, they might get caught and look like a complete idiot but the police can then say, "We have got a lot on and sorry we can't come out".'
Meridian Modena garage, where the briefcase was stolen, did not wish to comment on the incident.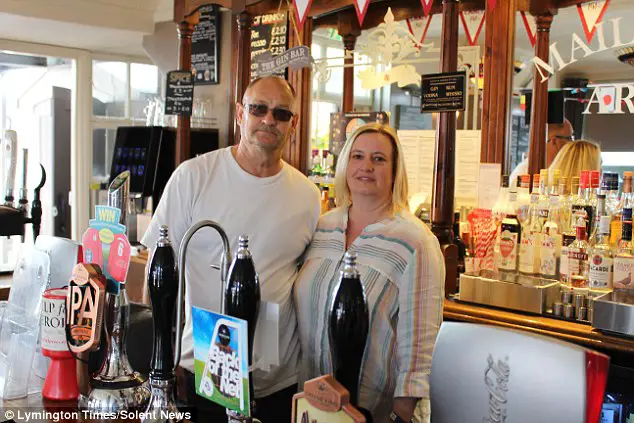 A Hampshire Police spokesman said the force received a call at 5.02pm that day.
'At the time of this incident police were dealing with a number of 'grade one' incidents – the highest priority incidents – including a high risk missing person in the New Forest, and no units were available to deploy at that time,' it said.
'As a result the man was let go. The items suspected to be stolen were recovered.
'All calls that come into our control room are risk-assessed before a deployment decision is made.
'Factors include if a crime is ongoing, whether there is an immediate threat to life, and whether there are any units available not responding to priority calls.
'A risk assessment of the circumstances of this incident was conducted at the time of the call on the basis of the information provided to us.
'The incident at the Meridien Modena garage in which a Louis Vuitton briefcase was stolen is currently under investigation and is being treated as a burglary.'
The force said the force 'worked closely' with firms in business crime reduction partnerships, shares intelligence and gives crime prevention advice under the Shopwatch scheme.
'We encourage any business owners who have been a victim of crime always to report it to us, as anything that helps identify criminals, particularly travelling or professional shoplifters, is invaluable and enables us to focus our resources where they can achieve the most benefit,' it said.