If you are a fan of Garth Brooks, you expect nothing less than a perfect concert night. He is known for the blend of rock and roll elements with the country music. This mix of genres amuses us for years and he never fails doing so.
His concert in Lafayette, Louisiana was very eventful and a pleasant happening to be part of. His repertoire of songs thrilled the crowd and the emotions that he sent was just unbelievable. His well-known interaction with the audience during his performance was once again a key element of his concert's success. People just adore such kind of attention given to them by their music idols.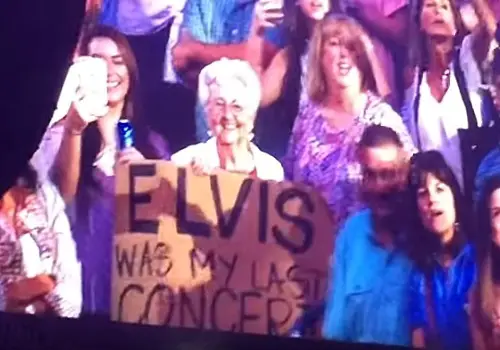 However, Garth's emotions and his near to perfection performance were not the only surprises he prepared for the crowd. While singing one of his songs, he noticed a big sign written in bold on a cardboard. His curiosity made him stop the song. The owner of the sign "Elvis was my last concert" was an old lady. She was delighted to be noticed.
Miss Laura's ordinary night turned out to be a night to remember. She and her daughter and granddaughter decided to go to the concert, a gift for her 89th birthday. Nevertheless, her birthday surprises did not stop with them coming to the concert. Garth made sure she got additional one.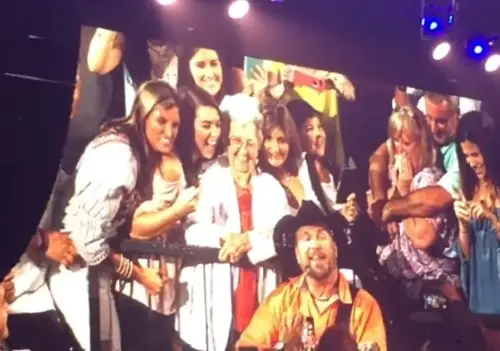 Intrigued by the sign, Garth approached the lady and found out that she indeed was 89 years old. Upon learning this, she told the story behind the sign itself. It turned out to be true. Miss Laura's last concert was indeed Elvis'. She saw the music legend in person and she remembers that night very well. Garth was about to make this concert equally memorable for Miss Laura.
Garth started to serenade her. His voice started singing 'If Tomorrow Never Comes' and instantly evokes wonderful emotions on Miss Laura's face. The birthday present she got from Garth is one of a kind and rarity that few people had pleasure to feel it. The crowd was enjoying this touching moment.
Play the video and feel the emotions. Such a great moment.