We really commend the senior people of this world who really don't let their age define who they are. Far too commonplace are situations where the elderly are told what to do and what not to do…
The real key to living a long life is to keep active, keep yourself as busy as you can, every day. That's exactly what this 82-year-old Jesse Langunas was all about!
He lives with his 63-year-old wife, called Joyce, everything was going really well until they found a hole in the shed roof. Like most of us, he got a quote from a builder to have the work done for him, but it just cost too much!
Jesse being the active guy he is decided to fix it himself, how hard could it be right?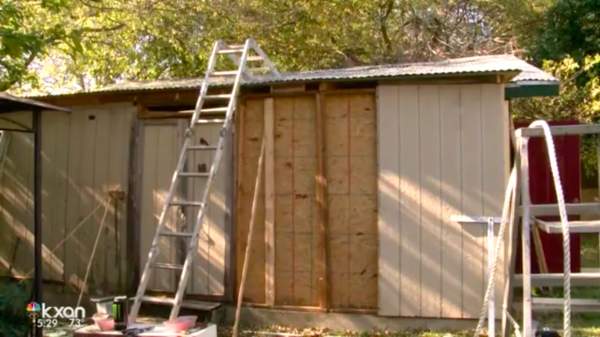 Jesse went to the store and bought a safety harness, very sensible so far, he thought if he tumbled off the roof he would still be safe. There was only one little problem, he couldn't figure out how to put it on!
He could have watched a video online to know how to do it, but no, he went to his local fire station to ask them instead, genius, it makes perfect sense!
He went up to a couple of firefighters in the station and they showed him how to put it on properly, they didn't know what he was intending at this point though.
In the fire station, Daryl Burns, sat in his office overheard the conversation between his firefighters and Jesse.
Daryl said that:
"Sean was trying to put the harness on himself and came to find out Jesse was trying to get on the roof to work on his shed …[I thought] I don't know if that's the best idea."
He went on to say:
"All of us had an opportunity with a little bit of time in our afternoon and it was like we can do something good with it"
The firefighters were not about to let him do the work himself and they were a little concerned for him, they went to his house and they did the work for him, how amazing, what amazing people!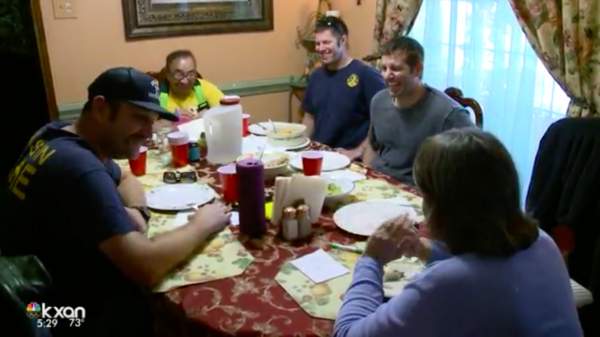 Jesse said:
"They said, you go and start on it, and when we get off, we'll help you come and finish it"
Jesse's wife was even more impressed by the firefighter's action, she was so happy they did such a kind thing for them, she cooked up a homemade meal for them all to enjoy when they had finished working on the roof!
The roof now at Jesse's house is completely suited up, no leaks in sight, at all! Jesse is overjoyed at the whole thing that happened!
He said finally, about it all, that the best thing was really that:
"I'm glad to say now I have four friends"
Thank you so much to the amazing firefighters, and Jesse you are an inspiration to us all!