If there is one thing that seems to be a reoccurring theme, between father and daughter, at least by any measure of normality, it's that Fathers rule! One father, in particular, is shining bright, a lovely touching video shows him helping one of his daughters!
The video shows him working thought his daughters anger with her, Randy Gaines is crouching down to speak to one of his daughters who is sitting on a table…
He says to her:
"You don't always have to be happy, you don't always have to be silly or funny, you don't have to be anything …The important thing is, whenever you're feeling that way, to not just stay there all the time. You want to accept it, you want to honor it, you want to acknowledge it, and let it go."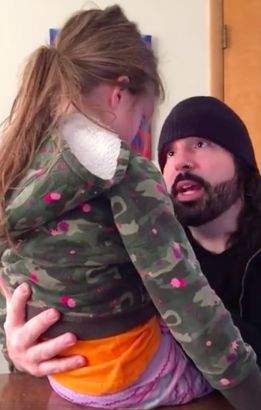 So you might think to yourself, that's not the most original advice on how to deal with anger or when you feel sad. But given with love between father and daughter, it's so much better and honest and deeper in feeling!
As you see the video go on you see that Randy had been having a joke with his daughter a little earlier in the day, he called her something that he usually does when he is joking, but this time she was not having it at all!
Instead of telling her she was not being reasonable, Randy took another approach, the best way of all, by taking his own advice, and talking to her about it calmly… how awesome!
Randy's wife in the video's caption writes:
"My heart explodes when he connects to his girls like this …No yelling. No screaming. Talking. Discussing emotions and why we have such feelings." The caption explains that neither Randy nor his wife saw this tenderness in their own childhoods, but together they're teaching their girls they are "still loved no matter what."
"I am so blessed and so thankful to have this man as my other half …the girls are blessed to have him as their father. Thank you, Randy Gaines, for being you!"
SHARE if you think that this is the best way to do it like we do, awesome parenting!