Donatella Versace helped her brother, Gianni Versace, build one of the most influential fashion houses in the world. She was his muse and his best friend. His assassination in 1997 shook Donatella's world. With his loss, she lost part of her soul.
Today, she is the vice president of the fashion brand Versace and the driving force behind the glamorous designs worn by celebrities, influential people, and those in love with high cotoure.
Donatella was born on May 2, 1955, as the youngest child of four. Her father worked as a salesman and her mother was a dress maker. Both Donatella and her siblings grew up around different fabrics they got fascinated with. Their mother's passion for design was soon passed on to her children.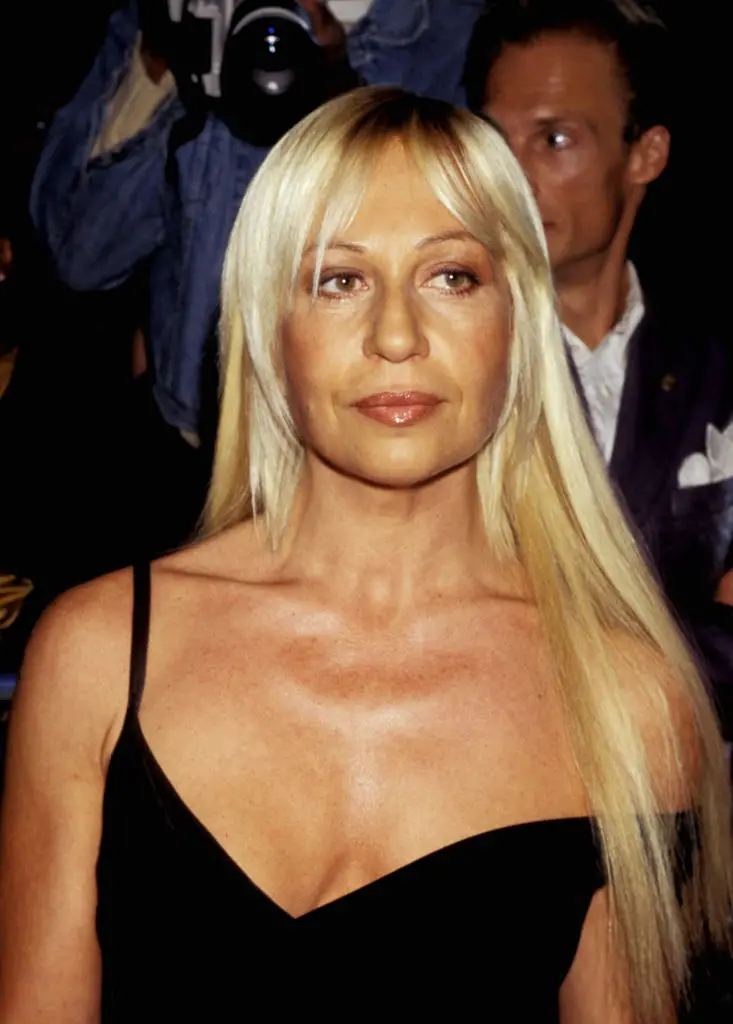 Donatella's sister Tina passed away at the age of 12. That was a huge heartbreak for the family. The rest of the siblings, Donatella, Gianni, and Santo were extremely close although the brothers were eight and ten years older than Donatella.
When she was 11, Gianni made Donatella dye her hair blonde because he was impressed by the Italian singer Patty Pravo and wanted his sister to look like her.
"I was his doll and his best friend. He dressed me up in cool clothes, took me out to discos and clubs from when I was 11. I loved it. It was the best time of my life," Donatella told The Guardian.
Donatella studied languages in Florence but visited her brother Gianni who was living in Milan every two weeks. She was his muse and the closest person in his life. The two were inseparable.
"Donatella filled an indefinable role of muse, sounding board, and first assistant . . . Donatella became Gianni's shadow in the atelier [and] had a great knack for sizing up a dress or a pair of pants or a color palette and deciding whether it had that mysterious quality that would make it trendy," expert Deborah Ball wrote in her book House of Versace in 2010.
As Gianni conquered the world of fashion, Donatella and Santo were by his side every step of the way.
"There was Santo, the calm one; Gianni, the enfant terrible, and me – Gianni's accomplice," she once said of herself and her brothers.
She was the company's vice president, and Gianni helped her start her own label, Versus.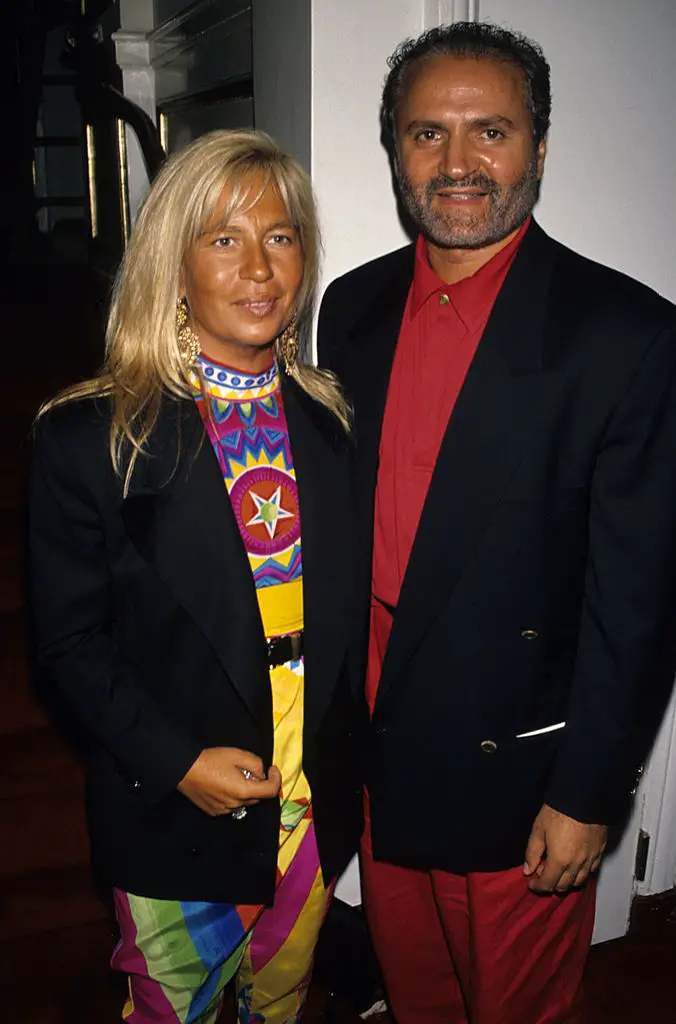 When Gianni was killed, Donatella was crushed. "For the first five years, I was lost," she said. "I made a lot of mistakes." She was feeling so bad and struggled so hard that Elton John once staged an intervention for her after she had a meltdown at her daughter's birthday party.
She couldn't imagine her life without Gianni, but she knew she needed to stay strong and continue his legacy.
After Gianni's death, Donatella took over the creative control of Versace. "Donatella is very much the image of the company. He (Gianni) made strong, sexy clothes for strong sexy women. She was the girl he was designing for," designer Marc Jacobs said in 1997.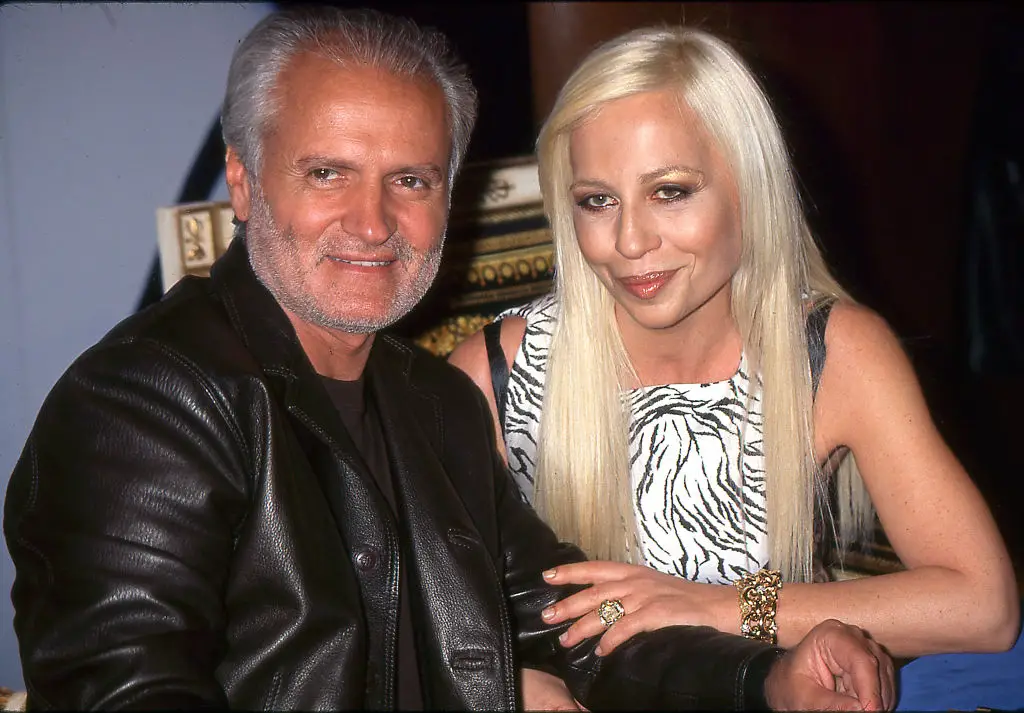 Donatella married husband Paul Beck in 1983. The two have two children, daughter Allegra Versace Beck and son Daniel Versace Beck.
Allegra inherited 50% of her uncle's company. She and her brother also got Gianni's valuable art collection.
Donatella and Paul divorced in 2000. Speaking of her role of a mother, Donatella shared with Vogue in 2013, "I'm sure I made a lot of mistakes with my children, but if you stay home, I think you make more mistakes.
"Of course, mother is the first thing. I was travelling a lot when the children were little, but I made sure that the time I was spending with them was quality time."
In 2004, the glamorous fashion designer married her second husband, Manuel Dallori, Italian businessman, but the marriage was short-lived. After the divorce, Donatella decided to focus on her career entirely.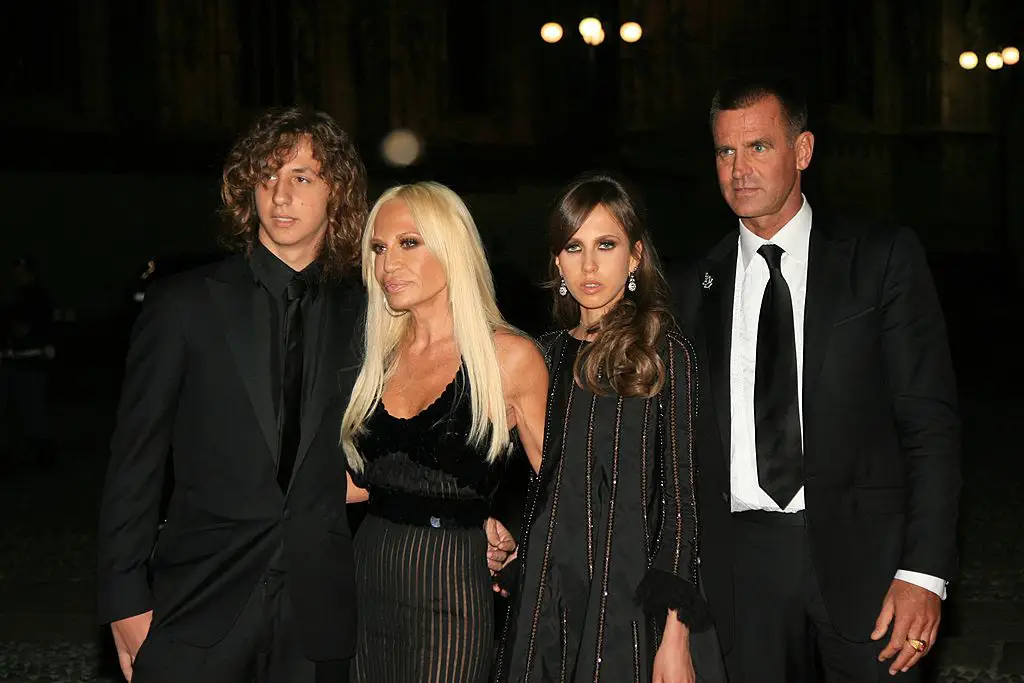 Besides her enormous success and wealth, Donatella Versace is also known for the many aesthetic interventions on her face. Once, Daily Mail wrote that she "transformed herself into a human waxwork with Botox, implants and laser resurfacing." Donatella has never spoken publicly if she had gone under the knife.
Dr. Katz from Juva Skin & Laser Center in NYC told HollywoodLife how he believed that Donatella "had her cheeks augmented, probably with filler and certainly her lips have been filled, her eyelids are a little droopy. I think she has had some bad Botox because they look like they are drooping. Maybe a little too much Botox in the forehead. She certainly can use some filler in her ear lobes, they are very stretched."
Even today, Donatella Versace is one of the most influential designers there are. She and her brother changed the world of fashion forever and influenced many trends over the years.
She has a net worth of $400 millions and says family always remains the most important thing in her life.
"Family is always at the heart of everything I do, which is why I love Bella and Gigi so much. They perfectly exemplify the strength between sisters, and they share that message to our Versace sisterhood worldwide," she said of her latest campaign she did with the Hadid sisters.
Donatella Versace is the queen of style.