Some North Carolina firefighters from the Apex firefighters department were completely stunned by the kindness of a random act of a woman at Walmart. It still remains a mystery to the identity of the woman, but firefighters hope that she will at least get their sincere message of thanks.
It all began when the crew from engine number 2, at Walmart buying some groceries had to abandon their groceries before they could even complete their purchase because of an emergency call. The left straight away for the emergency without a second thought.
The crew said to the Walmart cashier that they would be back to pay for their groceries before they quickly left, there was no time to spare at all, they had to leave straight away to the emergency call.
Firefighter, Andrew Baker said:
"It's important to us," …it takes no more than 90 seconds to leave on a call… "We take a lot of pride in trying to get out."
When the fire crew returned to Walmart there was a surprise waiting for them, an employee, a woman, had paid for all of the groceries, with a note on the receipt saying "Thanks for all you do".
All the crew asked who the woman was, but nobody knew who it was, the whole crew left feeling overjoyed and grateful for such a wonderful thing that happened.
Jeffery Jones, Firefighter said:
"The nice employees at Walmart told us that it was a lady behind us in line" … "But we never did actually get to meet her and tell her, 'thank you.'"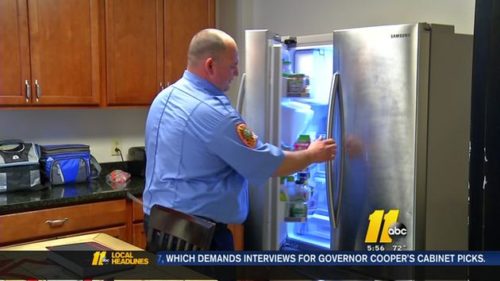 The hope is that the storey will find its way back to the mystery woman and she will know that she is welcome to visit the fire station any time at all.
The firefighters said:
"We would like to tell her thank you from the bottom of our hearts"
Sadness and heartache are commonplace in the role of a firefighter, putting out fires, emergency calls, sickness and death are all too commonplace. So, such a simple gesture was really appreciated, for the whole crew to know they really are appreciated like this brings such light to the dark days they endure and make it all seem even more worthwhile.
Baker said:
"It makes me feel like there are still good people in the world" …"You don't get that every day, so to me it gives you a warm feeling inside to know that people really do care about you."
We will probably never know who the mysterious woman was, but her kindness is truly amazing and inspires all of us. Just also to realise that to make a better world we all need to give what we can to help others and to help the brave people, whether it is firefighters to army personnel who keep us safe and secure risking their lives for us.