The wedding day is definitely one of the most important and most memorable days in the life of a woman. That's the day when everything has to be perfect, starting from the wedding gown, the make-up, the veil, the perfect venue, the exciting guests, and the vows that speak the promise "to love and to cherish till death do us part."
And while everyone expects for the big day to be all about those two people whose love we celebrate, that wasn't the case with Katie Hild's wedding ceremony.
Her soon-to be-husband Jeremy is a father to a lovely boy named Landon. And although both the parents are very fond of their son, Jeremy and ex-wife Casey didn't get along. And now, as both of them were involved with different people, the tension grew even bigger.
Knowing all this, Katie felt the need to smooth things over if she was about to get married to Jeremy. She really didn't want him and his ex to be constantly fighting, so she did her best to become Casey's friend.
Not only the two women became close, but they managed to get Jeremy and Casey's eventual new husband, Tyler, on good terms which lead to establishing a loving co-parenting environment.
As a way to acknowledge the bonds between this blended family, Katie wrote two other sets of vows. One was for Casey and Tyler, and the other for Landon. She asked Casey to stand up and said to her:
"First, I want to thank you for accepting me as your friend and allowing me to be a part of Landon's life. I promise to be an amazing mother to your son. I will guide, teach and love him every single day. . ."
No one could hold their tears back, as Katie turned to four-year-old Landon and said:
"Landon, I will love you more than you will ever know. I'm so happy that I now officially get to be your bonus mommy. . ."
What Katie did was sort of amazing. No one was prepared for what was coming, and it was the ultimate surprise that touched the hearts of the guests. But Casey was the one who was surprised the most. She thought it was a selfless thing to do.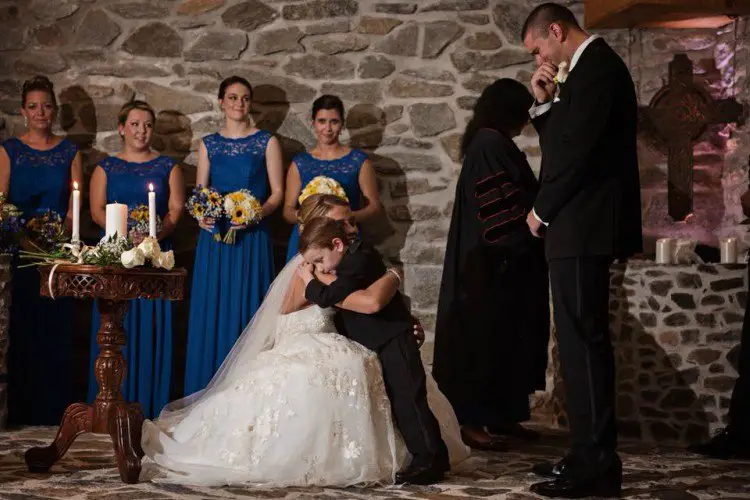 When Katie shared the photos and the video of her wedding day, she couldn't assume it would be seen and shared by so many people who praised her for what she did.
After all, Katie's heart of gold knew that Landon's happiness was the most important thing, and she showed everyone what a perfect co-parenting should look like. Landon is one happy boy with two sets of parents who love him to the moon and back.
What do you think of Katie's act? Please share you thoughts about co-parenting with us in the comment section below.