If you have ever seen the TLC show I Didn't Know I Was Pregnant, I am sure you couldn't help but wonder if those stories were real or made-up. The truth is that this can happen even more often than one can ever imagine.
A few days ago, a mother, who had no idea she was carrying a child, gave birth shortly after she boarded on a plane. The story took the Internet by storm, to say the least, and many are left in awe of how this is even possible.
The happy and very surprised mother, Lavinia Mounga from Utah, was traveling to Hawaii on Wednesday when she started experiencing contractions.
The once-in-a-lifetime "incident" went viral after one of the passengers, a woman named Julia Hansen, took to TikTok to announce the pretty much unexpected birth with a clip and the caption: "A baby was just born on this plane." She later added: "To those wondering how she was able to fly in her third trimester, I sat next to her dad on the plane and he said they didn't even know she was pregnant."
Lani Bamfield, a nurse from Kansas City, who helped deliver the baby shared her impressions. "If anyone would like to know how our trip to Hawaii is going… here's how it started," she wrote on Facebook.
'We delivered a 26-27 weeker in the airplane bathroom, in the middle of the ocean, with three NICU nurses, a Physicians assistant, and a family medicine doctor we were able to make it THREE HOURS before we could finally land but the baby and mom did great.
"God was definitely with us up there."
The mother and her baby, whom she named Raymond Kaimana Wade Kobe Lavaki Mounga, are doing perfectly fine. The mom has been discharged and her newborn son is still in the NICU because he was born prematurely.
The mom wrote that she was "overwhelmed in the best way," and the baby's father, Ethan Magalei, didn't feel any less exited. He called his bundle of joy a "miracle."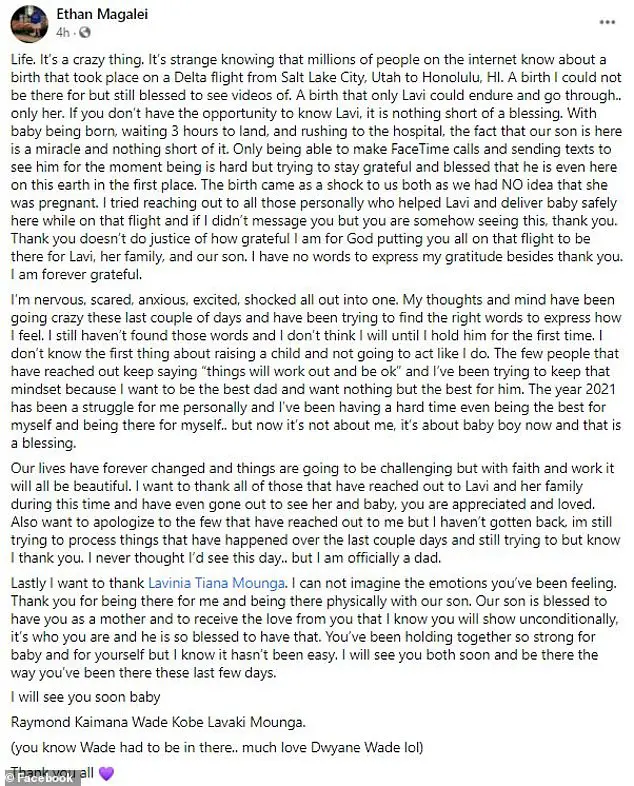 Delta Airlines also spoke of the miraculous birth and a spokesperson for the company said: "The safety of our crew and customers is our top priority. Our crews are well trained to manage a number of on board medical scenarios. Every aircraft is equipped with medical equipment and crews have access to expert counsel during flight when an issue occurs."
We congratulate the family on their new addition and wish them all the best in the years that follow.
Credit: DailyMail