What would a wedding be without "the dress" which is the most important addition to the breathtaking looks of the bride that walks down the isle right into the perfect new life? Not much, really.
The search for the right gown can be tiring because it has to be simply impeccable. The price is irrelevant, and it doesn't matter if the family has to pay a small fortune for it as long as the bride-to-be looks stunning in it.
However, the photo of this particular wedding gown has gone viral and all for the right reasons. It's not only eye-catching, but incredibly tasty as well. Yes, you've heard that right. This beautifully and precisely done gown is edible and probably the dream cake of every couple.
Emma Jane's wedding dress inspired cake simply awakens the senses of taste. This never-before seen cake creation caught the interest of the picky people blessed with both an eye for high couture fashion and a sweet tooth.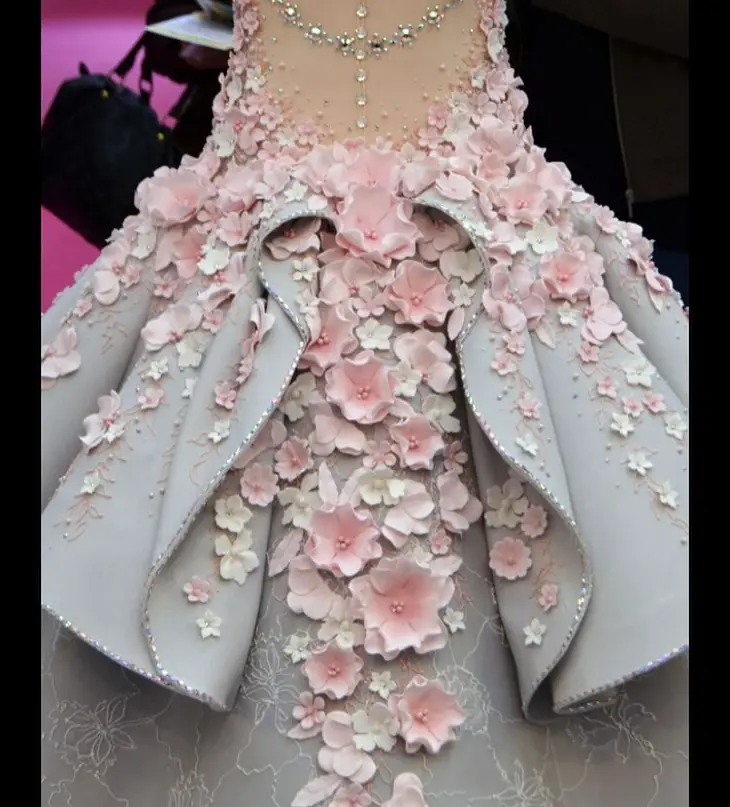 The original design of the dress was created by fashion designer Mak Tumang. The gorgeous cake is a replica of the "Angela" gown that is both breathtaking as a dress and as a cake.
Even though "stealing" other people's designs is a type of crime, that obviously doesn't apply to the edible versions of the creations, especially because they don't last very long and don't leave evidence behind, except maybe for some crumbs on the plate.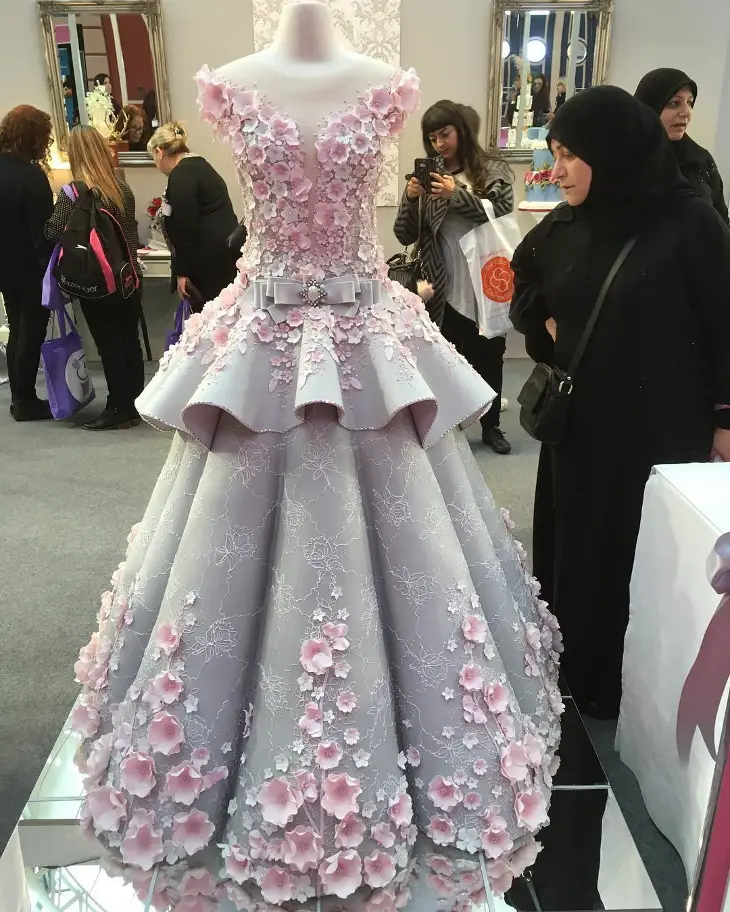 The sparkly and flowery cake took Emma Jayne 10 days to make. Because of the size of it, which is six feet tall, it took six people to lift it over Emma's garden gate.
She used around 132 pounds of fondant to create the dress, and 110 pounds of modeling paste to make the flowers.
Luckily, it got to the right place untouched and safe.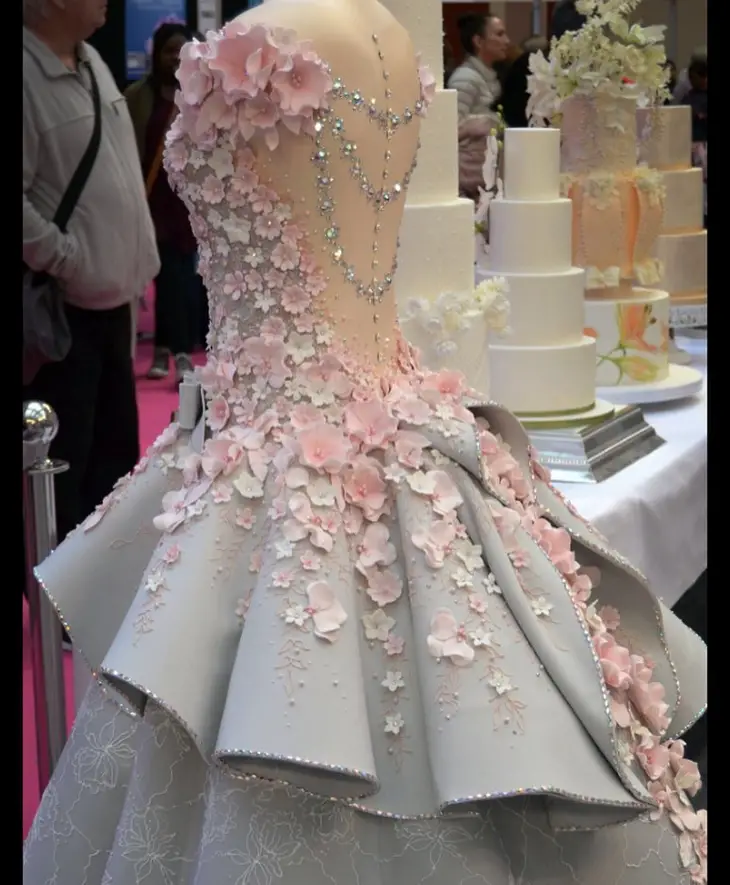 Emma Jayne originally created this edible art to show off at London's Cake International, which is a trade show that gives super talented bakers the opportunity to show off their sugar-laden creations.
"We were asked to choose a wedding dress designer and make a cake based on one of the wedding dresses. I was asked to make the only life-size wedding dress and chose Mak Tumang as his designs stopped me in my tracks. They are simply incredible."
Mak Tumang was part of the show and was more than happy to pose next to his dress design which was turned into a mouth-watering cake.
Not only he wasn't mad at Emma for using his drawings, but he was indeed flattered because she chose exactly this model, which is one of his favorite.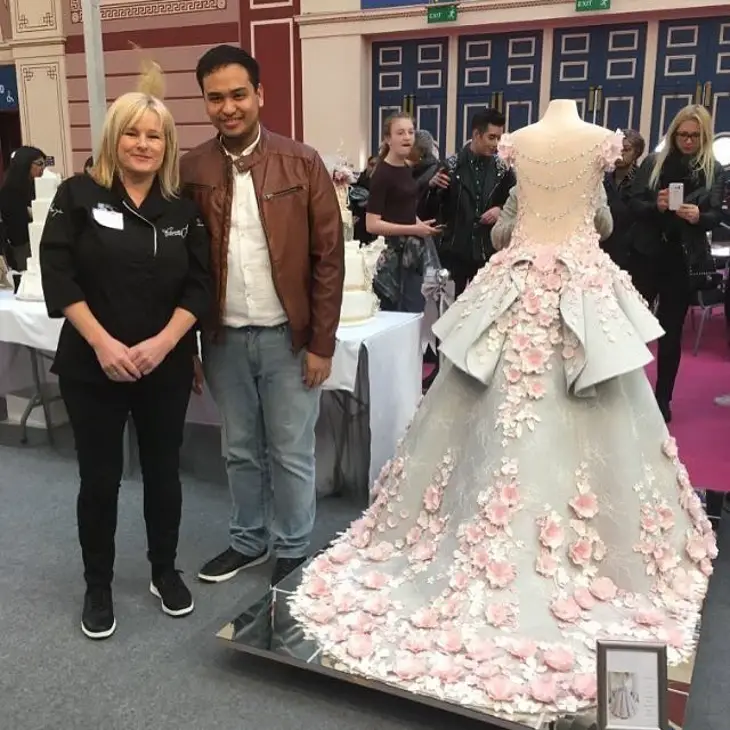 The details of the dress are incredibly real. To be honest, if you see it at a wedding dress store we are absolutely convinced you are going to confuse it for a real dress.
It wowed everyone who got to see it and left people in disbelief. The main color of this mesmerizing creation is bluish-grey and the flower petals are crafted as a 3D form.
The back, however, is pretty stunning as well. The details added are crystals that add to the overall experience.
We know that we would really like to taste this masterpiece, but we also feel it would be pity to ruin it.