Every child is special in their own way, but it looks like a baby girl named Lucy Marie Perkins is a bit more special than the rest of us. When she was welcomed into the world, she became one in 48 million children who share their birthday not with one parent, but both.
Lucy's parents, Caitlin and Tom Perkins, are both born on August 16. They love the fact that they share a birthday together, and knowing that Caitlin's due date was somewhere in August, they joked that their girl could be born on the same date as they were. Little did they know was that it was going to turn into a reality.
"HOLD ON TO THE PHONE!" Dr. Brad Robinson, Caitlin's obstetrician, wrote on his Facebook page on Wednesday, "You are not going to believe this story!" as he shared the news of the unique birth where a baby shares its birthday with that of mom and dad.
"'Can you guess who else has a birthday on August 6th now?' YEP. Lucy was born yesterday, on the same day as her parents, after SPONTANEOUS labor!"
Caitlin and Tom, who are from Dirranbandi in South West Queensland, were looking for a date on their shared birthday and believed they would have a fun time celebrating their special day. As Caitlin was in the 39th week of pregnancy, she believed Lucy would be born in a couple of days time, but the sweet baby simply wouldn't wait.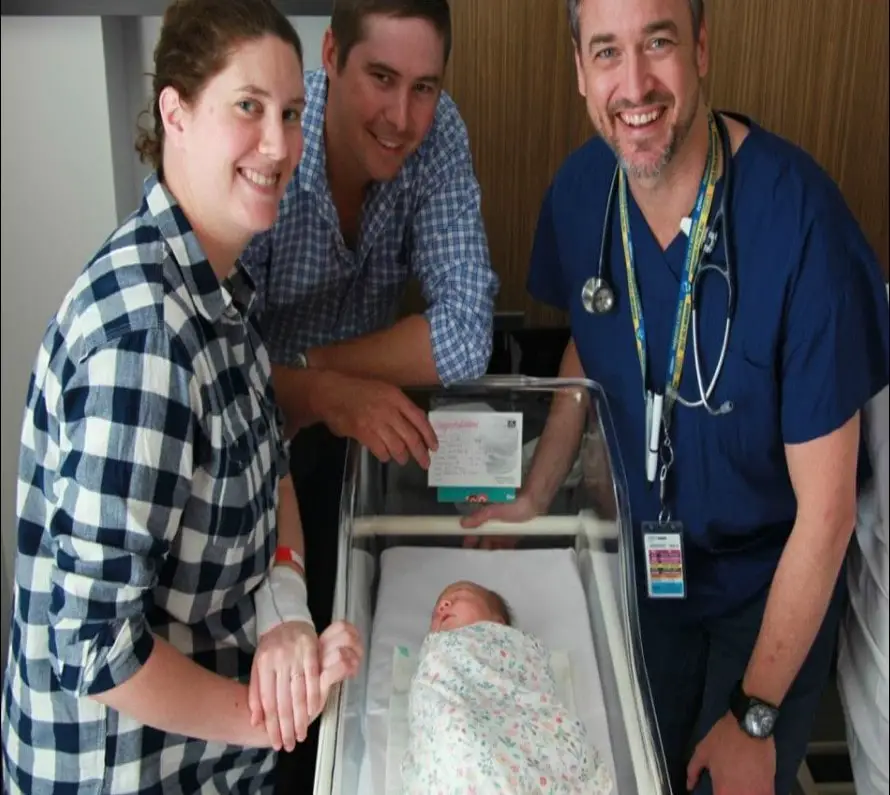 "When my waters broke, I responded 'No way,' because I was in denial," the proud mom explained. Caitlin was transported to the Greenslopes Private Hospital in Brisbane. Lucy weighted a healthy 3.3kg.
Dr. Robinson, who works as obstetrician for over a decade, said the day Lucy was born was one of the most memorable days of his life.
"I'm fortunate enough to have a job where I get special days on special days," he said, "but yesterday was incredible."
"It's not every day that you're pleased to be woken up at 2:15 a.m. by the phone. But around 2:15 a.m., I got a call from the midwife saying Caitlin had broken her waters, which I was overjoyed about because I had been pushing for it."
Please SHARE this beautiful story with your family and friends on Facebook!
Bored Daddy
Love and Peace