Powwow is a social gathering held by many Native American communities and symbolizes or celebrates the homecoming and fellowship. The event is followed by dancing, singing, and socializing and is a unique experience. This is one way through which Native Americans honor their culture, express gratitude for the old friendships, and welcome the new ones.
This particular powwow was sort of special because it really depicted everything the event stands for, and that's loving and respecting each other. Because no matter how different we are in terms of religion, nation, or skin color, we are all human beings, and that's all that matters.
During the powwow held in Oklahoma by an Iowa Tribe, one marine participated in the dancing and the video that emerged now serves as an inspiration for "different people" to get together and be friends, because that is the only way for us to turn this world into a happier place.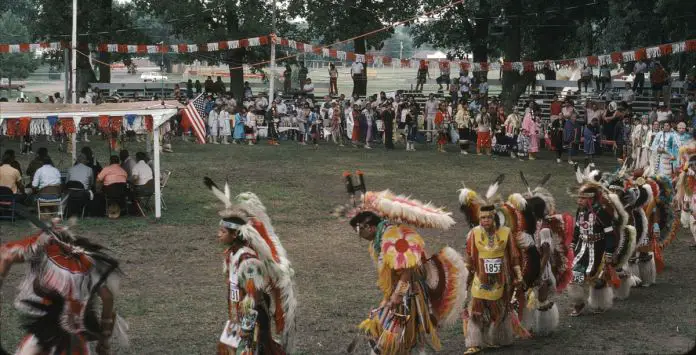 According to the site of the Báxoǰe people, the powwow usually begins on a Friday evening with an event called 'the Grand Entry,' during which "veterans, chiefs, royalty, and dancers make a grand entrance into the sacred arena."
It was then that the marine was invited to take place in the dancing ritual.
Lance Corporal Trey Kent had been honored for his service by the members of the Iowa tribe.
The lance corporal was flattered and jumped right in and took part in the war dance.
Native-Dance.ca states that ancient warrior societies would partake in these war dances as a way to prepare for battle, often simulating battle moves through the steps.
They explain, "They danced to the beat of the drum, while others in the community watched and encouraged them, building their enthusiasm for going to war."
After the battle is over, the warriors do another dance that speaks of what was happening at the battle field.
Hugh Foley, another attendant of the event, put the lance corporal's amazing dancing on tape.
This video captured the attention of around 2 million people who got to witness what it's like to be "different" but yet the same. It's amazing how the lance corporal is dressed in his officer's uniform while the person dancing by his side is wearing a traditional Native American attire.
These two dancers are a proof that if we want to, we can get over the barriers that define us as members of different groups and be just humans who have mutual respect for each other.
Take a look at the video below. It's really a pretty different experience.