Beloved Three's Company star Suzanne Somers left the world following decades long cancer battle.
The show turned her into a household named loved by millions, and fans enjoyed every episode of it, but behind the camera things weren't the greatest between some of the members of the cast. The relationship between Suzanne and fellow co-star Joyce DeWitt was a rocky one and the two turned into enemies. Sadly, they didn't manage to make things right for a very long time.
Eventually, they reunited, but it took them years to do so. Before her passing, Suzanne opened up about her relationship with Joyce.
Suzanne Somers was born Suzanne Marie Mahoney on October 16, 1946, in San Bruno, California. 
During her childhood, she was abused by her father. The actress once revealed that he called her "stupid" and "worthless."
"It's not easy growing up with an alcoholic," she said.
Sadly, the abuse lasted for quite some time until Suzanne decided she couldn't put up with it any longer.
"We all have moments where your life can fall apart, or you can use it like judo — using forward energy to win, making the negative work for you," she said.
Years later, her father asked for her forgiveness and she said that having to endure what she did only made her a stronger person.
Her life took a different turn when she started college, Lone Mountain College, which today is the University of San Francisco. During that time, she was forced to drop out of university because she learned she was pregnant.
Suzanne and the father of her child married and welcomed son Bruce Jr.
At one point, they almost lost Bruce Jr. in a car crash. When he was taken to counseling in order to be able to overcome the nightmares which came with the accident, the therapist understood that Suzanne was in need of therapy too.
"'He's fine. You need to stay.' I said, 'Why?'" Somers recalled the therapist saying after one year of counseling for her son. "That's when she said, 'You're a walking apology. I've never met somebody with such low self-esteem.'"
"I had the craziest, most violent, most unbelievable father," she said. "I had to do this musical because how do you start out in a closet and end up with the life I have today?"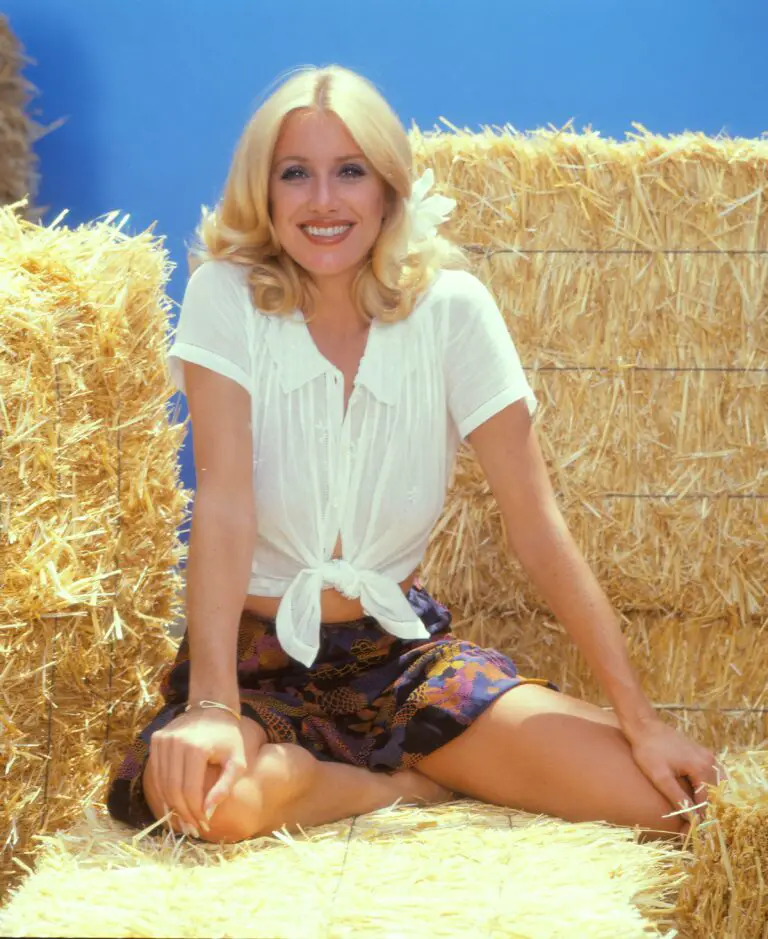 Suzanne's life changing moment came when she got a small role in George Lucas' film American Graffiti. "This is a life-changing moment. Five seconds on film that will never be forgotten," she said, adding that Lucas told her, "Everybody will always remember the mysterious blonde in the Thunderbird."
She was offered the role in Three's Company after she got a gig at The Tonight Show with Johnny Carson, where she began reading poetry in front of a national audience every month.
The role of Chrissy Snow helped Suzanne make a name for herself.
At some point, when she reached a celebrity status, Suzanne caused a stir when she asked for a 500% raise. Instead of the $30,000 she made weekly, she asked for $150,000, the same amount of money her male co-star John Ritter earned at the time.
Instead of meeting her demands, Suzanne Somers was fired.
"I've been playing what I think is one of the best dumb blondes that's ever been done, but I never got any credit," she told The New York Times the same year. "I did it so well that everyone thought I really was a dumb blonde."
According to her husband, the production fired her in order to send a warning to the rest of the women who were part of the industry.
"When I got fired, I thought, 'I should never have asked. Why did I ask? Why did I think I could get paid what men are being paid? Who did I think I was?"' she recalled in 2015.
"Rather than thinking, 'Hey, c'mon. I have the highest demographics of any woman on television. I'm on the No. 1 show. I'm doing the heavy lifting, too,' I went right into low self-esteem. I hid in my house for a year in absolute grief."
This made things hard for Suzanne because she had a hard time landing a role. "Here I was on the number one show, and I couldn't even get an interview because I was considered trouble," she told CNBC.
Besides being fired, Suzanne needed to finish the fifth season of Three's Company but was not allowed to talk to anyone on set.
Eventually, Somers' character of Chrissy was replaced, first by Chrissy's cousin Cindy Snow, played by Jenilee Harrison, and then by nurse Terri Alden, played by Priscilla Barnes, from 1981 until the show's end in 1984.
"They painted me as she's trying to ruin the show," Suzanne said in 2020. "So, I never talked to anybody on that show ever again. Ever again."
"We had very different approaches to our careers," Joyce said of the relationship between her and Suzanne following the show. "We had very different needs. I did not have a child that I was supporting on my own. I didn't have a business head, so I didn't understand someone who did."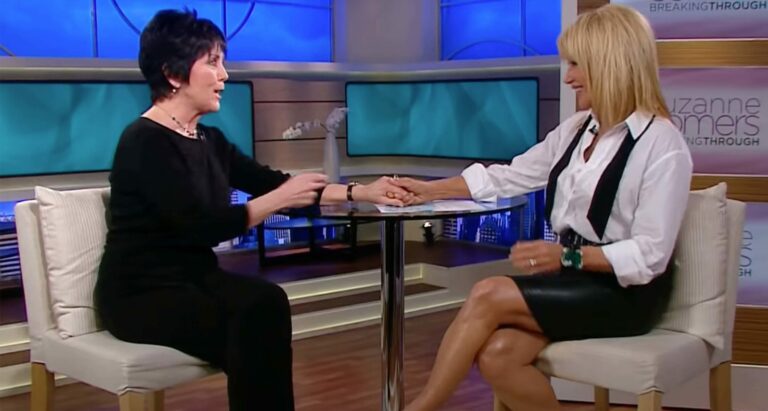 The two co-stars reunited after 30 long years on Suzanne's talk show Breaking Through and got to discuss their different paths in life. "I have relentlessly said that it is my opinion that the only reason Three's Company is worth remembering is that it created an opportunity for all of us to laugh together, to celebrate joy. It's a profound gift," Joyce said on the show.
"You went up against ruthlessness, and it came down," Joyce said. "What you've gone on to do is immeasurable."
"In a group of serious actors, I probably pissed you all off," Suzanne concluded.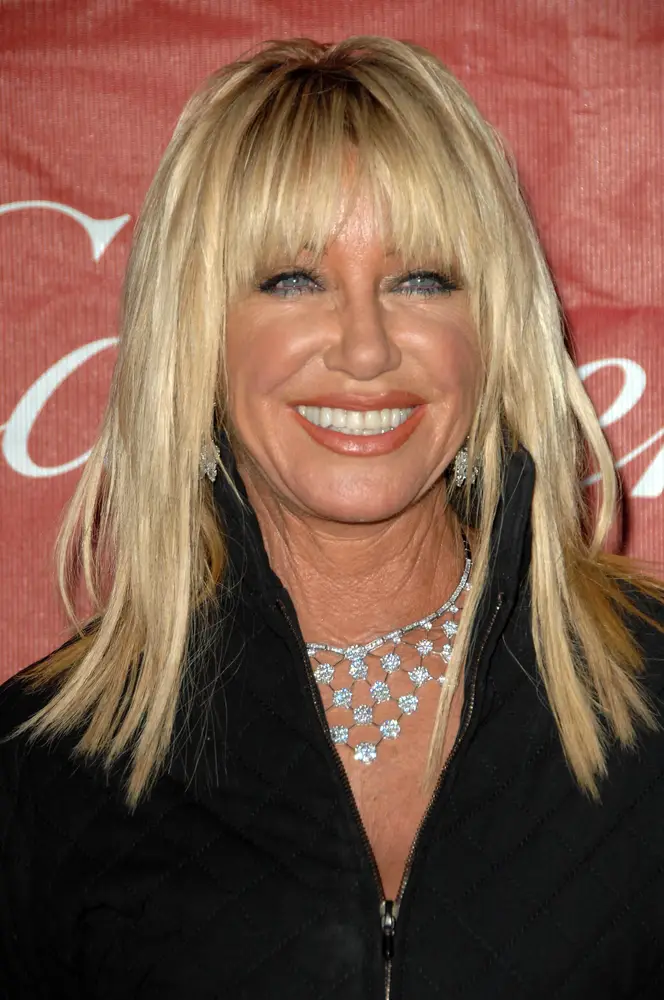 Following Suzanne's passing, Joyce DeWitt expressed her grief and paid tribute to her friend.
"My heart goes out to Suzanne's family," she told People. "They are a very close family — deeply connected and caring one to the other. I can only imagine how difficult this time is for all of them."
She added, "I'm sure Suzanne was greeted by Angels into the loving wisdom waiting for all of us on the other side, and I hope that will assist her family's hearts in healing as they travel through this difficult time."
Please SHARE this article with your family and friends on Facebook.
Bored Daddy
Love and Peace