Shemar Moore is a proud new dad!
The actor, best known for Derek Morgan on Criminal Minds, and the lead role of Sergeant II Daniel "Hondo" Harrelson on S.W.A.T., announced that he and girlfriend Jesiree Dizon were expecting a baby. He shared the exciting news earlier this month during an appearance on Jennifer Hudson's talk show.
"I'm Shemar Moore, 52 and a half years old," the actor said. My mother is in heaven, right now it'll be the three-year anniversary on February 8." He then continued, "And on February 8, I'm going to make one of her dreams come true because, in real life, Shemar Moore is about to be a daddy."
Moore's mother passed away on February 8, 2020, after battling multiple sclerosis for the past couple of years of her life.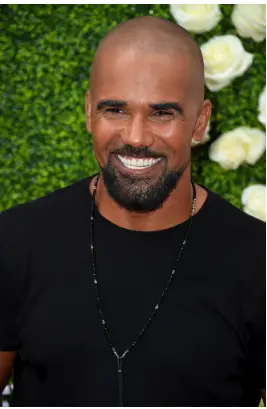 Hearing the exciting news, Hudson, who had a huge smile on her face, said, "That is news. And your mama gonna be so proud smiling at you from heaven."
Well, Moore's bundle of joy arrived earlier than expected. On January 24, Frankie Moore was born, and with her arrival, Moore's biggest wish ever, to be a father, came true.
He always spoke openly of the desire to have children. "I was worried for a while that maybe that ship had sailed kind of thing, and, you know, God had my back and things lined up. …My life is pretty grand but I know once God does call my name, once I get this experience, I'll be able to go to heaven whole."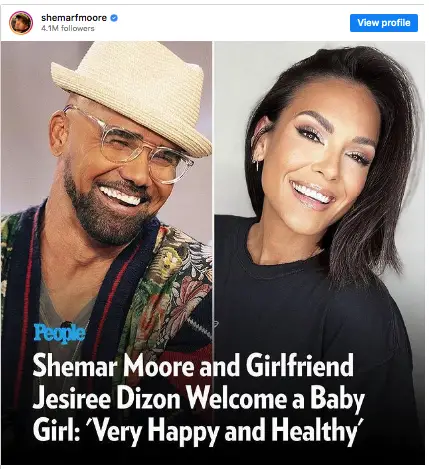 Moore shared a photo of him holding his daughter. Along with the photo, he wrote, "FRANKIE MOORE!!!! BABY GIRL in da building!!! Born January 24… at 3:38pm…. 7.1 Pounds… 20 inches…. 10 fingers n 10 toes… Already THE LOVE OF MY LIFE!!"
The post continued, "I'm a Girl Daddy!!!! HOLY S**T!!! DREAMS COME TRUE!!
"Grandma Marilyn is in heaven puff puff passing, drinking her wine, and doing her happy dance… I LOVE and MISS YOU everyday Mom." 
He ended the post writing, "Frankie is gonna grow up to be a KILLA!!! Watch out World, here comes 'Frankie Muthaf**kin Moore'!!!!"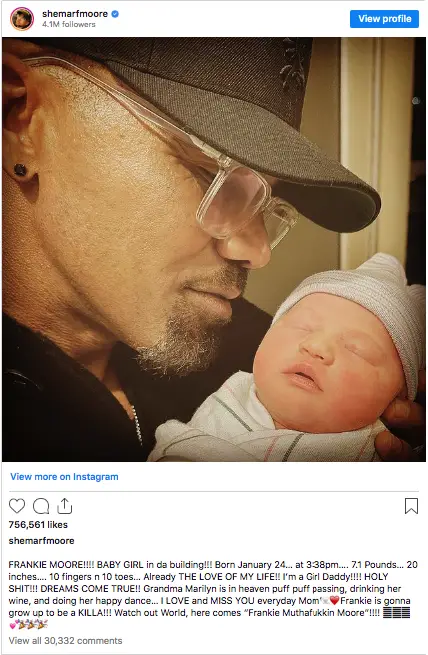 We congratulate the happy couple on the new addition to their family.
Please SHARE this article with your family and friends on Facebook.
Bored Daddy
Love and Peace