On December 30, 2022, the world lost an incredible journalist and a woman. Barbara Walters passed away at the age of 93.
Her spokesperson Cindi Berger told CNN in a statement, "Barbara Walters passed away peacefully in her home surrounded by loved ones. She lived her life with no regrets. She was a trailblazer not only for female journalists but for all women."
During her successful career of over half a century, Walters interviewed the most famous people of her time, including celebrities, politicians, leaders like Fidel Castro and Saddam Hussein, and each president from Richard Nixon through Barack Obama.
Her interviews were never dull, on the contrary, millions of Americans were eagerly waiting for each new guest to pour out their heart to her because she possessed that superpower to have people trust her.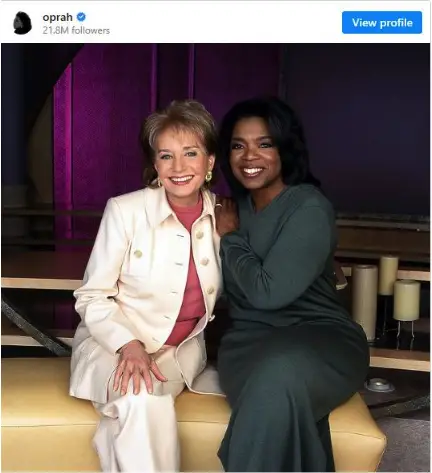 For her impressive career, Walters earned numerous awards, including three Daytime Emmy Awards and a Prime Time Emmy. Her face became the most famous face on TV.
Among those who paid their tribute to Walters was host Oprah Winfrey. In an Instagram post, the media mogul thanked Walters for being "such a powerful and giving role model," referring to her as to a "hero."
Robert Iger, former Walt Disney Company CEO, shared his condolences and spoke of Walter's unique legacy. "Barbara was a pioneer not only for women in journalism but for journalism itself," he tweeted.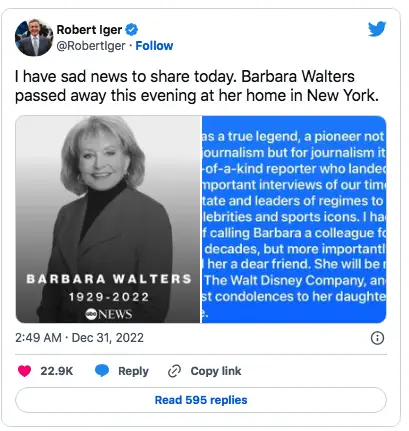 "She was a one-of-a-kind journalist who was able to secure interviews with many of our time's most powerful persons, including heads of state and regime leaders, as well as the most recognized artists and sports personalities."
"Over three decades, I had the honor of referring to Barbara as a coworker, but more significantly, as a good friend. We will all miss her terribly at The Walt Disney Company, and we want Jacqueline, her daughter, to know that we send our heartfelt condolences."
During the years, Walters hosted most notable shows like The View and 20/20. She excelled wherever she worked and her courage and boldness to ask the right questions at the right time is something many journalists dream of.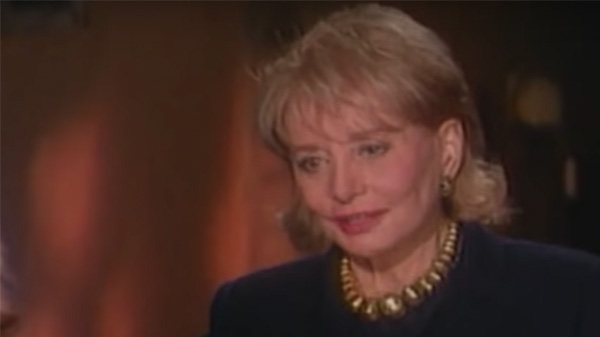 In 2014, she felt it was the time for her to say goodbye to her career. "With Barbara's retirement, so goes TV news," longtime news anchor Connie Chung told the New York Times.
Rest in peace, Barbara Walter, you will always be considered a legendary TV icon who marked an era.
Please SHARE this article with your family and friends on Facebook.
Bored Daddy
Love and Peace