Teaching your child right from wrong is what great parenting is all about. Sometimes, in an attempt to show our kids how much we love them, we avoid to scold them even if they do wrong. Unfortunately, that triggers consequences later in life, because it shows them that there is a way for them to be let off the hook even when they don't act the right way.
An incident which took place during the Baltimore riots back in 2015 is a proof that when it comes to raising children, parents sometimes need to turn to some "desperate measures."
Rioters filled the streets of Baltimore and when the police tried to stop them, they started throwing rocks at them.
There was one particular young man among those who attacked the officers. He was wearing a ski mask which covered most of his face, but that didn't prevent his mother from recognizing him. She saw him on TV and was so embarrassed by his act that she got out of the house and tracked him down.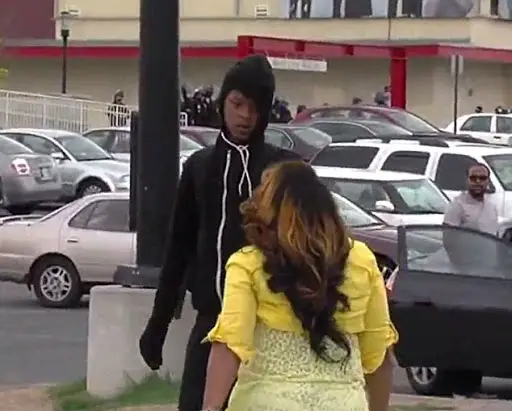 Getting near him, the mom tried taking his mask off, and she then started hitting him on the head. He received a few punches before he managed to separate himself from her.
The incident was caught on video by WMAR and the footage was later shared online. It attracted the attention of many. Even Baltimore Police Commissioner Anthony Batts praised this mother's act.
"In one scene you had a mother who grabbed a child who had a hood on his head and started smacking him on the head because she was so embarrassed," he said during a press conference. "I wish there were more parents out there who took charge of their kids tonight."
He then added: "Take control of your kids. This is our city, let's make a difference."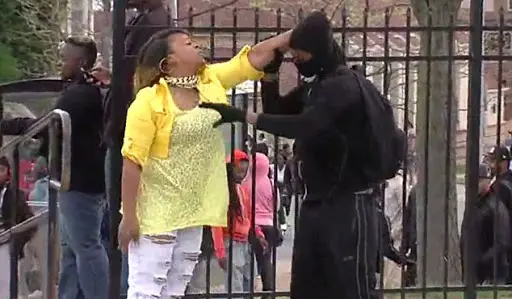 A number of people took their time to comment on the video. One person wrote, "That MOM in Baltimore that Smacked her kid for Looting, deserves MOM of the YEAR. Other MOMS should be doing the same!" Another added, "Mom of the year in Baltimore… my mother would have did same thing…"
She got the title "Mom of the year," and we believe she definitely deserves it.
Go to the video below for more stories of special moms.