When a police officer at the Verdigris Police Department witnessed a Roman candle being shot through a broken window in a garage door at the house he was passing by, he knew something was off. Before he decided to investigate any further, he called backup, but none of the officers who arrived at the scene were ready for what was coming.
In a tragic turn of events, it was revealed that the firework was shot by a woman who took three children to a mother for a supervised visitation. The mother, however, was armed with a gun and held the woman at gunpoint after which she took the baby inside and locked the woman and her two other children in the garage.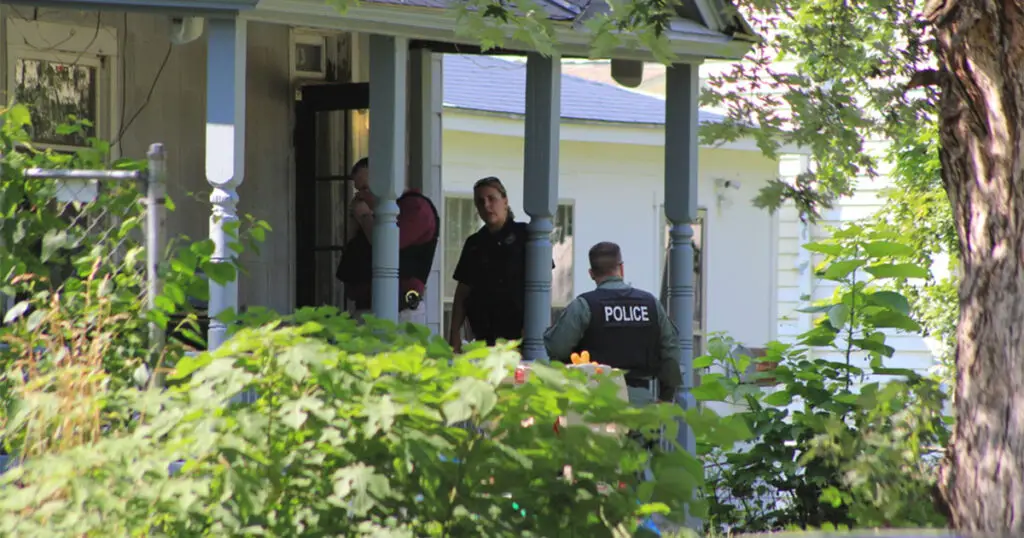 In order to save the children and minimize the risk of harm, several emergency teams, including the Cherokee Nation Marshal Service's SWAT team, tried to negotiate with the mother of the children. Sadly, to no avail. She mercilessly killed her three kids and then ended her own life.
Once inside the house, police officers and members of the emergency teams found the lifeless bodies of 11-year-old Noe, six-year-old Bryce, and 9-month-old Billy.
The children's heartbroken father, Billy Jacobson, explained that his ex and the mother to his children, Brandy McCaslin, attempted suicide in January after he refused to reconcile with her. She was so angry that she tried changing their baby's name. "There's something I want everyone to be clear about. When Brandy McCaslin tried to commit suicide in January. She tried to change my son's name because she was mad at me because I wasn't coming back to her." The post continued, "I never stopped calling him anything but that and it was wrong of her to do so. Out of respect to me and my son, who had no choice in the loss of his life due to his mother. Please do not refer to my child as anything but Billy. He deserves that."
Jacobson's current partner, Camron Fennel, also shared her heartbreak over the deaths of the children.
"Our hearts are shattered into a million tiny pieces. I can't believe our precious 9 month baby boy is really gone." Fennel's post continued, "How in the hell can a "mother" be so selfish and evil to take the lives of her 3 innocent babies. Burning in hell for an eternity is not enough punishment for her!!"
According to Jacobson, it was the system that failed him big time and let his children be put in a life-threatening situation in the first place. In a video he shared, Jacobson explained the importance of giving fathers more rights, especially in cases like him when the mother suffers from mental illness.
"Fathers' rights are a dear subject to me, I've dealt with it for years now…" Describing the late McCaslin's struggles with mental health, he continued, "their mother had an incident in January where she had attempted suicide and I took her to court. I got emergency custody and the system failed me. It basically helped her even though she didn't have an attorney, had multiple issues with mental health and suicide, and put my kids right back in the care of somebody (the courts) knew would injure my kids and if it wasn't for that, my son would be here in my arms right now."
This grieving father made it his mission to use the tragedy in order to reform the laws.
"The wheels are spinning, everybody. I have somebody going to the capital…They're going to go approach some of the senators and representatives to see who would be willing to back us on enacting a bill!" The July 24 post continues, "It can't happen until February to May of next year because that's when they meet again to enact laws but it looks very promising! Thank you everyone for your kind words and support. If we work together we can make this where it cannot happen again."
A number of people offered their condolences and support. "Using your trauma to impact others for the good is absolutely admirable," writes one while another said, "So freaking amazing ty for leading this fight forward, many lives will be saved."
Just days prior to the tragedy, Jacobson posted a photo of his baby with the caption "high five me."
"This is heartbreaking…This family's seen a lot, you know. Mental health has…I feel like just really, really, really affected this family when it comes to that and substance abuse," Lucretia Pitre, a family friend, said. "…I just can't believe she took the kids. I don't know. I just don't understand it."
Our thoughts and prayers are with Jacobson.
Please SHARE this article with your family and friends on Facebook.
Bored Daddy
Love and Peace