Members of the military don't have it easy. Many of them end up deployed away from home and from their loved ones. It happens that they miss lots of important events such as holidays, family gatherings, birthdays, and even the birth of their children. They do all this for the sake of the ordinary people like you and me. And we should always be beyond grateful for the sacrifice they make. 
However, we have to agree that the best part of serving in the army is the reunion with the family. These encounters are always emotional and involve tears of joy. 
One little girl's father was away for too long and she couldn't wait for him to get back home. Being aware of this, her father decided to send her a gift from abroad. The cutie pie was overly excited believing she got the cookies she loves so much. But it turned out this surprise was way sweeter than that.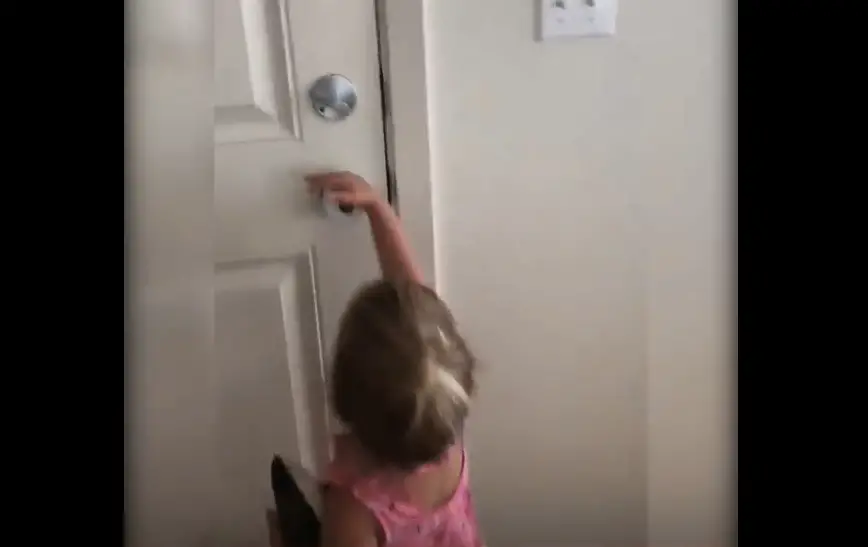 Maci missed her father so much that she had a doll named 'Daddy Doll.' This huggable toy would always be by the girl's side making sure she's safe from the monsters hiding under her bed. 
One day, Maci's mom asked her to come down and check out the gift her daddy sent her. Having the doll cradled in her arm, she was in anticipation to get what she believed were sweet cookies. Running down the stairs barefoot, wearing the cutest pink dress with her blond hair in a bun, she started walking around the room looking for the sweet surprise. 
Her mom told her to get outside and check whether the gift was there. Maci ran towards the front door and opened it in excitement.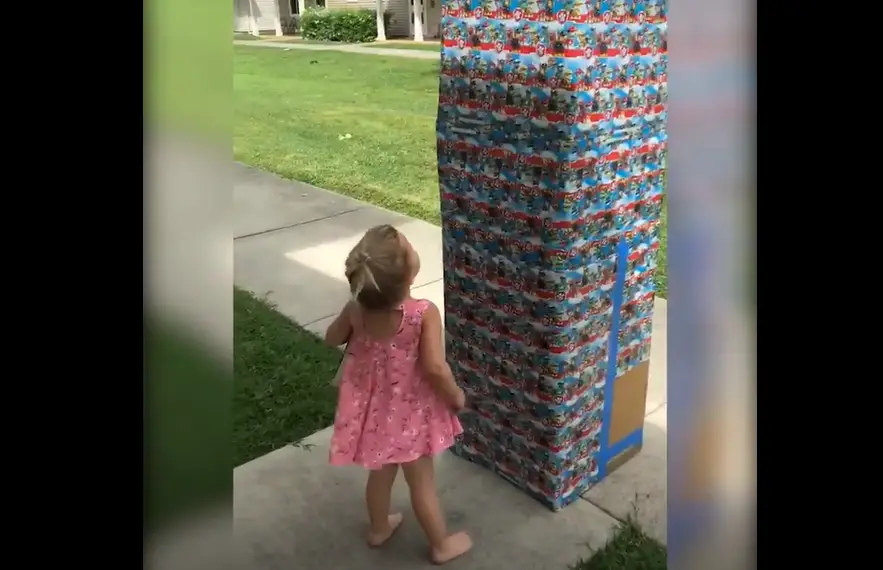 She was a bit puzzled once she noticed that huge box on the doorstep. What could it be? If that's cookies, there have to be lots of them inside. Was it something else? Well, she just had to unwrap the box and see it for herself. 
Her mommy helped her rip the wrapping off, and then asked her little girl:
"Can you knock on it? Say 'Cookies.'"
Maci knocked on the box and was eagerly waiting for some sweets when her father, dressed in his uniform, got out of it. He greeted his sweet daughter who screamed and fell on her butt. It was the ultimate surprise. 
The two kissed and firmly hugged each other, and when he asked Maci whether she liked the surprise she answered with a resounding yes. 
We are sure she wasn't mad she didn't get any cookies because we know her daddy would get her as much as she wants now the two are together again. 
Check the heartwarming father-daughter moment in the video below.