Many times, life doesn't treat everyone fair and different obstacles are constantly getting on our way to success. However, we should always do our best in order to look at things with optimism and never lose hope that everything is going to turn out just fine at the end.
When sweet Addie was born, her mother Julie Bryan didn't know how her little girl would have to spend most of her life at the Texas Scottish Rite Hospital in Dallas, Texas. The reason behind these frequent hospital visits were her legs that were positioned backwards. This condition was a result of the Larsen syndrome she was born with which affected the normal development of the bones.
During her life, Addie had to go through four surgeries and around 60 or 70 casts.
This girl's family did everything in their power to gather the funds needed for all those treatments that cost them an arm and a leg. Knowing how her parents and other moms and dads out there whose children were in a similar position were struggling to make ends meet, Addie decided to help them with the finances by doing something truly amazing. In fact, this brave girl's act helped the world learn of her condition and people were happy to step in and help as much as they could.
As her birthday was approaching, this 8th grader had only only wish, and that was for other kids like her to be able to do everything their peers could and that was running and dancing. Addie's condition improved a great deal over the years, and she was able to lead a completely normal life.
Mom Julie told WFAA:
"When she was born, her knees were backward, her legs were all the way up to her head, she had hip dysplasia, and a club foot. We didn't know if she would ever walk, if she would ever run."
The doctors were true miracle workers as they significantly improved Addie's condition and enabled her to walk, and this girl wouldn't settle for anything less than having completely normal legs and knees.
But this time, it wasn't about her, nor her legs, it was all for all those kids who needed casts and who had to spend a lot of days at the hospital. Addie had a plan of rising $8,000 for the hospital and the doctors who did so much for her. She somehow felt it was about time for her to do something nice for them in return.
The money she would collect holding that sign at the busy street corner near her home would help in buying prosthetic devices for those in need.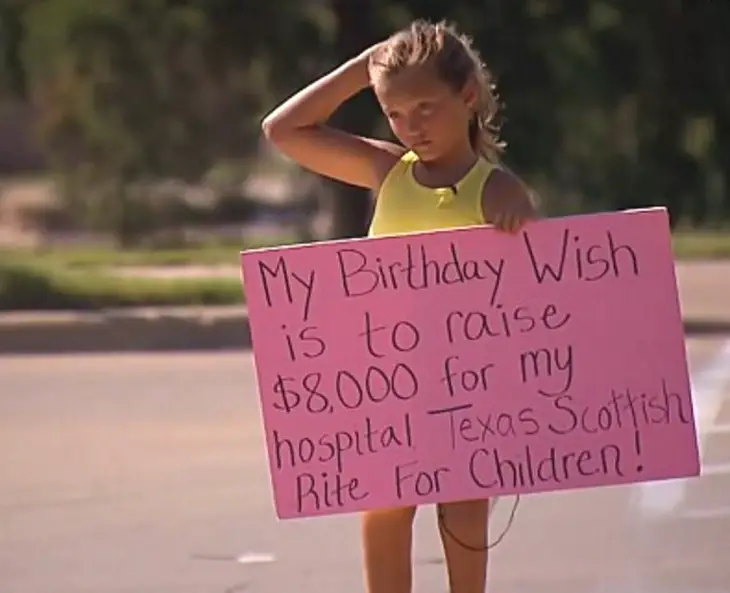 Amazingly, many people were eager to stop and hear this girl's story. And as many learned of her condition and her goal, she eventually raised more money than she could ever expect. Her kind deed got media coverage and quickly spread across the country. She was able to raise an astounding $19,500 all by her self. But wait, the best part is yet to come. An anonymous donor was so touched by everything Addie had to go through that they decided to write the hospital a check on $50,000.
Addie was beyond happy. She knew how many children in need would get their casts and other devices that would facilitate their walking a great deal. She spent so much time at the hospital that she considers it her second home. During her stay there she was not only surrounded by professionals who treated her condition, but doctors who showered her with kindness and love.
This sweetie says how giving all those money to the hospital is the least she can do for all the help she got from them.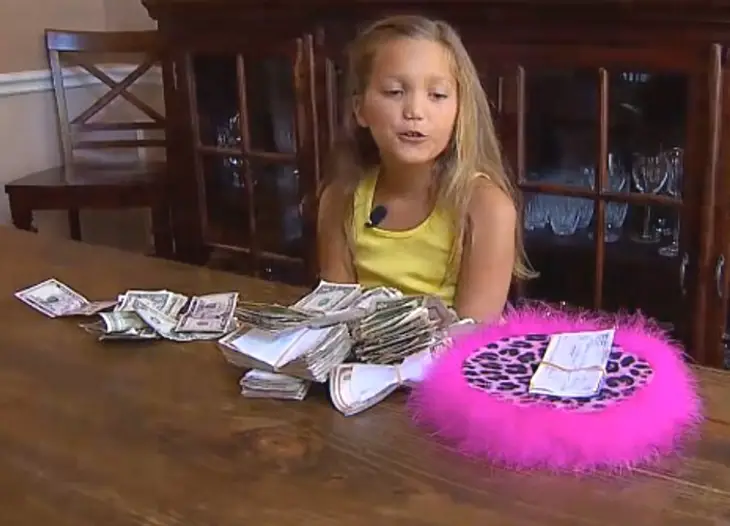 Check Addie's story in the video below.