Two huge stars in their own right, Lady Gaga and Liza Minnelli, capped off last night's Oscars ceremony when they presented the Oscar for Best Picture. When they took the stage, they received standing ovations. Then, Lady gaga turned to Minnelli, took her hand and said "Do you see that? The public, they love you."
The presence of Minnelli, who is 76 and wheelchair-bound, brought joy to many and elicited an outpouring on social media, with many people saying that her being on stage represents "a powerful moment of inclusivity."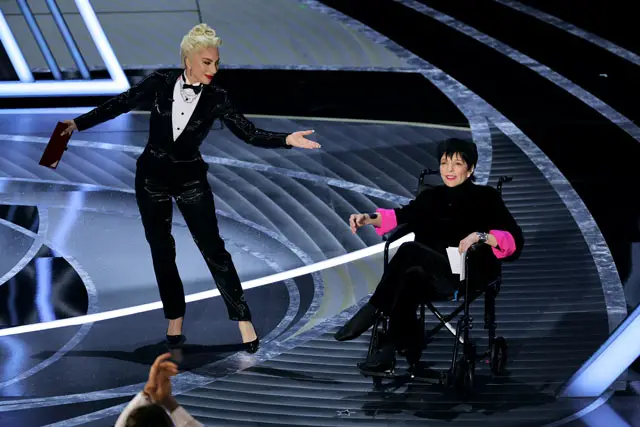 Lady Gaga acknowledged Minnelli by announcing that the actress was celebrating the 50th anniversary of Cabaret, for which she won an Oscar for Best Actress in 1972.
Holding the cue cads in her hands, Minnelli stumbled with her words, but Lady Gaga got closer to her and said "I got you," to what Minnelli replied, "I know, thank you."
This exchange melted millions of hearts. Many said it was the highlight of the night, and we can't agree more.
Lady Gaga is such a special one.

The way she's gently handling Liza (and Tony Bennett so many times before) shows you her heart. #TheOscars

— Sarah Spain (@SarahSpain) March 28, 2022
Lady Gaga telling Liza Minnelli "I got you" on stage at the Academy Awards in an industry and society that so rarely takes care of its older women. My heart needed that. One day I hope someone will be there to say "I got you" too.

— Jamie Tunkel (@jamietunkel) March 28, 2022
Say what you want about Lady Gaga but you have to respect a performer at the top of their game who takes the time to lovingly connect with and celebrate elders like Tony Bennett and Liza Minnelli in the way she does.

— Lane Wood (@lanewood) March 28, 2022
Following the announcement for the nominees, Minnelli turned to Lady Gaga, and told her she was happy to be there as she was her biggest fan.
Former publicist of Liza Minnelli, Scott Gorenstein, revealed that "Lady Gaga requested that Liza present the award with her."
More about Gaga and Liza, less about Will and Chris, pls ❤️❤️❤️ pic.twitter.com/Bd9jbAyf3I

— Michael Baggs (@MichaelBaggs) March 28, 2022
Before attending the Oscars, Lady Gaga was partying at Elton John AIDS Foundation's 30th Annual Academy Awards Viewing Party for which she wore a dazzling pastel gown and red lipstick.