Some loves are just meant to last forever, much like that between Goldie Hawn and Kurt Russell. These two love birds have been together for 37 years and are going stronger with each passing day.
Despite being the one for one another, the couple never married and they believe that could be the reason why they stayed in love for that long.
Kurt and Goldie first met on the set of The One and Only, Genuine, Original Family Band in 1966. Back then, however, it seemed there was no chemistry between them, probably because of the fact that Goldie was 21 and Kurt was still a teenager. From that movie on, both went on to have extremely successful careers.
After their first film together, Kurt and Goldie both stared in Swing Shift in 1983 and that's when they started dating. Four years later, they appeared in Overboard.
Fans have been eagerly waiting for the couple to appear in a movie together again but that didn't happen until 2018 when they played Mr. and Mrs. Claus in The Christmas Chronicles. And now if you loved them in this movie, you will be thrilled to learn that The Christmas Chronicles 2 is to be released in November 2020.
Goldie, who has been married twice in the past, says that if she and Kurt had got married, they would have probably been divorced until now. "We have done just perfectly without marrying. I already feel devoted, and isn't that what marriage is supposed to do?" Goldie told Woman's Day. "So as long as my emotional state is in a state of devotion, honesty, caring, and loving, then we're fine. I like waking up every day and seeing that he is there and knowing that I have a choice. There is really no reason to marry."
View this post on Instagram
Parents of four children, Kate Hudson, Oliver Hudson, Boston Russell and Wyatt Russell, who all followed into their parents' footsteps and are very successful in the movie industry, and grandparents to six, this couple has it all.
"It's also about not losing yourself in each other," Goldie told Porter. "Being together, two pillars holding up the house and the roof, and being different, not having to agree on everything, learning how to deal with not agreeing. Everything's a choice."
Kurt and Goldie got stars on the walk of fame for their impressive acting careers. According to Today, when the two were honored, Kurt said, "Goldie to you, I owe my wonderful life. Simply put Goldie, I cherish you. All of the stars in the sky or on the boulevard don't hold a candle to that."
She, on the other hand, spoke of the secrets of their relationship and said, "Love, gratitude, compassion because sometimes every man or every woman will drive their partner crazy. Family. Fun. Laughs. Sex."
Karen Donaldson, a body language expert, analyzed photos of Kurt and Goldie and said that they are almost always seen walking in unison which points to the fact that they are on the same level. "Goldie and Kurt walk in unison which tells us that they are also in sync with one another on a emotional level," Donaldson said. "[It] tells us that they are affectionate towards each other. Plus, it helps that Kurt can't keep his eyes off Goldie—a sign that he adores her.
"The way in which Kurt holds Goldie's hands in both of his as he kisses her, shows a truly deep connection on an emotional and physical level," Donaldson explained.
Speaking to Woman's Magazine, Donaldson added that it is very much obvious that Kurt and Goldie feel comfortable with each other, something very important for a long-lasting relationship.
"This signals a long-lasting relationship, void of competition and full of acceptance," she said."A natural mirroring of your partners posture and body language is often seen in more established relationships that have a deep connection."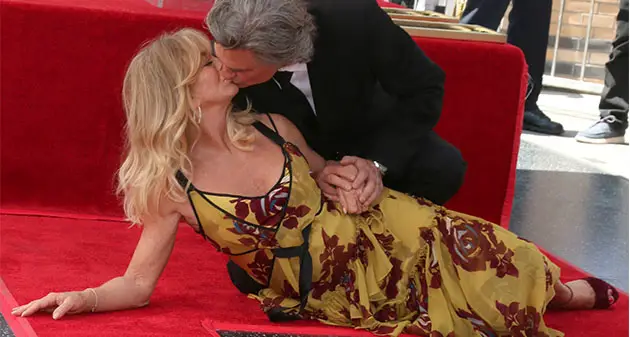 We guess what these two have is love for the storybooks, don't you agree?