We should never give up on our dreams, because as great author Paulo Coelho wrote in his bestseller The Alchemist, "And, when you want something, all the universe conspires in helping you to achieve it."
87-year-old war veteran named Edward Sanders knows that best.
Unlike his fellow friends who graduated from high-school, he was forced to drop out when he was only 15 in order to become part of the U.S. Air Force. So, in one moment, Ed was enjoying his carefree life in Jackson, Michigan, and in the next, he found himself flying a B-47 bomber in Korea.
"We had a lot of scary moments over there," he told MLive. "My first day there, I thought it would be my last. You can't imagine what it was like."
However, a day after day, Ed served in the military for almost a decade before he returned home in Jackson where he still resides together with his wife. He shared the story of how the two met. While still in Korea, Ed was given some time off to visit his family and it was then that he met the love of his life.
"(I) thought she was the prettiest girl in Jackson, so I asked her would she wait for me, and she said she would. When I got out, we got married."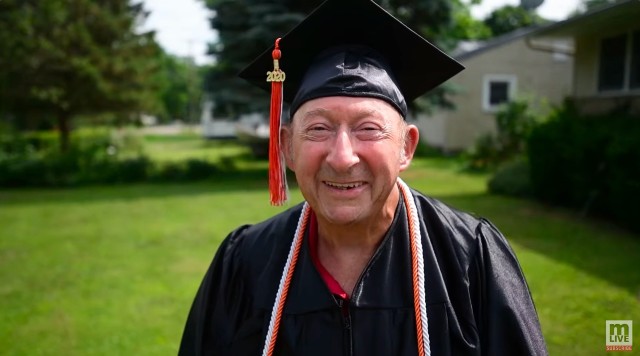 Life was good for Ed, but one thing he regretted was not finishing high-school. However, he never really believed that this wish of his could turn into a reality one day.
Thanks to the Michigan program for veterans which allows them to receive their diplomas, Ed got his from Jackson High School.
The best thing of all is that he received his diploma together with his great-great niece Alex Bissell. You can check the video of the graduation ceremony below.
Congrats Ed, and thank you for your service.