Revenge is a dish best served cold … or in a newspaper's ad page, using your cheating ex's credit card.
In some bonafide locals-only drama, a woman named Jenny has absolutely rinsed a man called Steve in the form of a full-page newspaper ad. And this, my friends, is why print will never die.
Readers of Mackay and Whitsunday Life in Queensland's east got a shock when they picked up their Friday edition and saw a full-page ad from a scorned lover called Jenny.
"Dear Steve, I hope you're happy with her," the open letter read.
Now the whole town will know what a filthy cheater you are. From Jenny.
"P.S. I bought this ad using your credit card."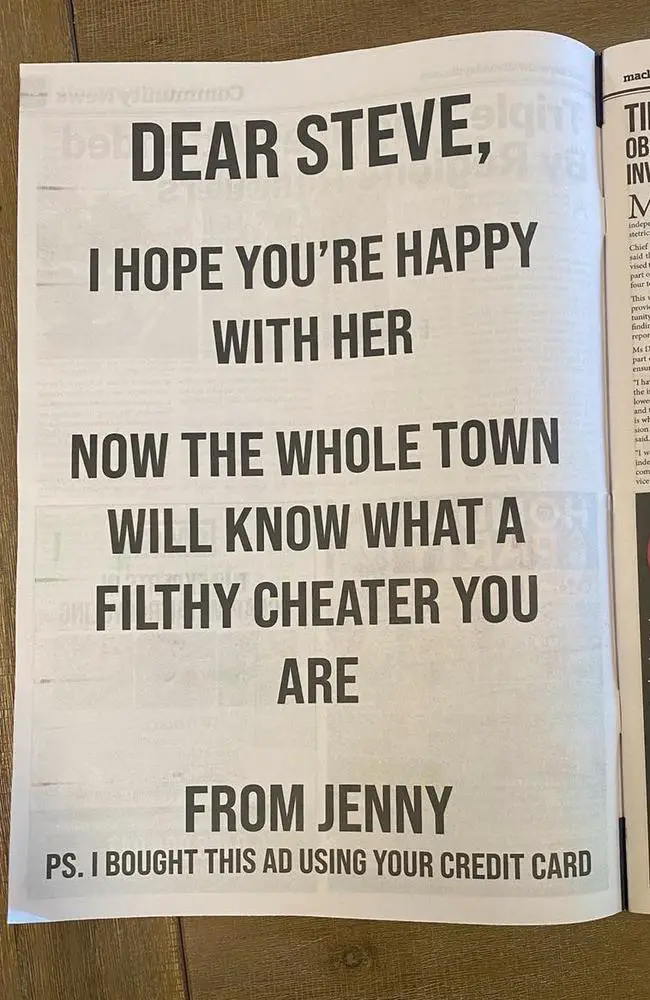 Mackay and Whitsunday Life have been inundated with "dozens" of messages since the shocking letter went to print on page four.
"We do not know who Steve is, but apparently he's been very very bad," the newspaper said.
"We won't be revealing any details about Jenny."
But unfortunately the final piece of Jenny's revenge seems to have not been pulled off.
"We have not charged the credit card in question," Mackay and Whitsunday Life said.
But Jenny's actions were met with praise from her legion of new-found fans.
"Jenny sounds like someone I want to be friends with," one person said.
"Not all heroine's wear capes. Jenny is my new favourite person," said another.
"Couldn't love this more if I tried LOL… Good on you Jenny," proclaimed another amused commenter.
The public were not as kind to Steve however.
"Never trust a Steve," one said.
"I would have charged the card," another person brutally said.
"Everyone who knows a Steve and Jenny have suddenly sat up and taken notice," someone joked.
All the beefing celebrity couples of the world have nothing on Jenny and Steve. Sorry Kim Kardashian and Pete Davidson, you've absolutely been bested here.
Will we get a follow-up ad from Steve I wonder? Only time will tell. But consider this your reminder to support local news and of course, local drama.
Share if this make you laugh.
Bored Daddy
Love and Peace