People go about their daily lives, dashing from doing one job to the next, a guy perched on the sidewalk and singing can be an interruption to the flow of your day a little hiccup, enough to stop and listen…
Many people think that a street performer is a lazy guy begging for money, couldn't he just go and get a job, and some might be just to busy to appreciate the performance…
But for Jesse Rya things were different, he played his guitar outside the grocery store in Dallas-Fort Worth in Texas!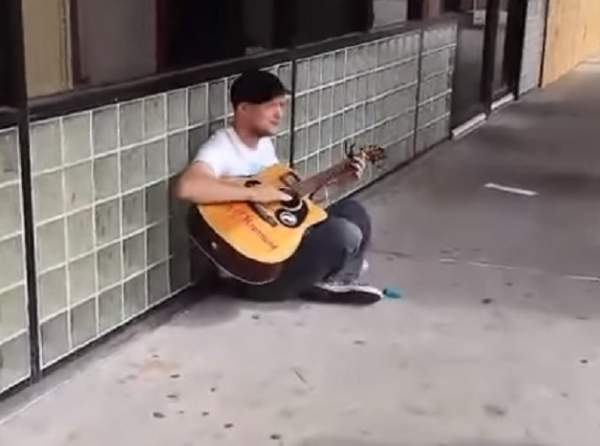 Jesse sat next to the store, he was singing an original song of his own, anyone could just stop and listen to it. As it happens a tall man came up to him, he had a small thought that someone had come to move him on, out of the way of customers.
However, when you're making the right kind of noise, full of joy, it can be really infectious and carry the feelings with it!
The guy who approached Jesse was nonother than Howard Mullins, he wasn't coming to move him on he was coming to join in with him…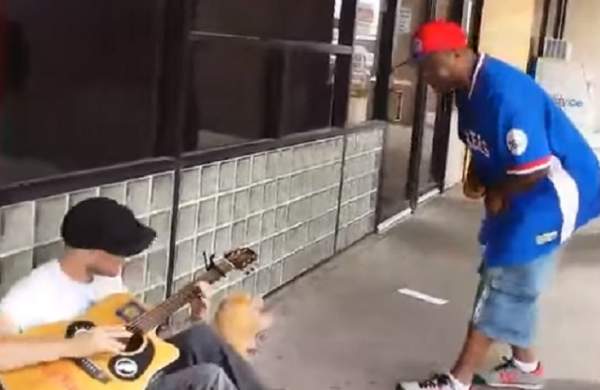 At first, Howards just listened, quietly appreciating the song, but then, like he had been compelled by a force beyond him, he just joined right in, being creative and following his heart and creative inner self.
Howard improvised with Jesse while joining in…
They sang:
Tell 'em that I just don't know no, no no
(All your chances I was never leaving)
Tell 'em that I just don't know no, no no
(all the times that ive been down and out)
Tell 'em that I just don't know no, no no
(I was thinkin' I'd take all my life, all my time)
Then two other men came over, they walked over with a kind of swag that said they were coming for some of the action.
They didn't stop the song though, they were wearing yellow reflective vests, and one of them Ron Lashey, dances next to them, singing along with them.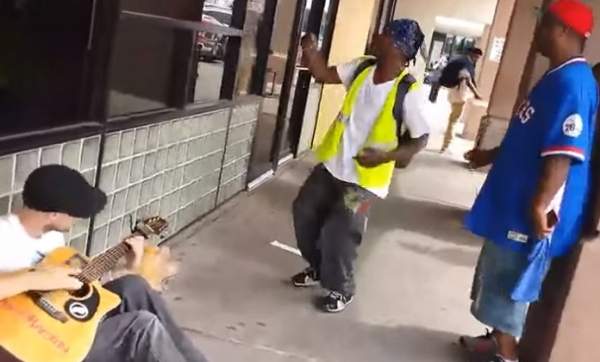 Ron's obvious natural skill is not just dancing and singing though, he gets right into a rapid-fire freestyle rap about persistence in the plight of struggle.
Then after that, the three 'artists' who are also three strangers to each other, break up and go off in different directions.
An onlooker, James Maldondo, just happened to catch it all going on and after he shared it online. The video quickly gathered momentum until it got millions of views.
Rya posted on social media so he could ask names of the fellow singers, he never thought that he would find out their names though.
It wasn't long before they all found fame and they even made it to the Jimmy Kimmel show and onstage, the late-night host even accompanied on the sax!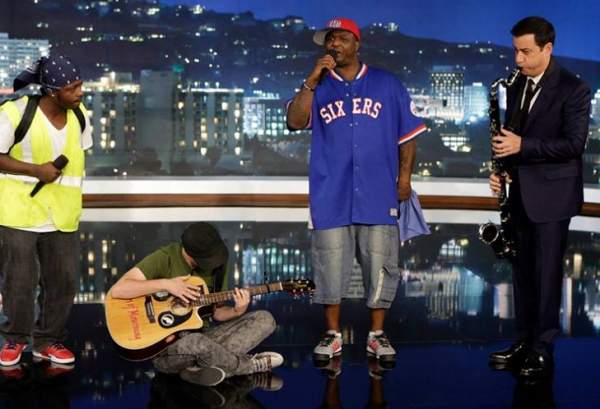 This really was an awesome gathering like an angel from above had pushed them all together and then watched the show, some artists believed that in their sculptures the art was already formed inside, they just needed to reveal it, well these guys had talent, and for sure they revealed it to the world!
Watch the amazing and lovely performance below, and please SHARE with friends and family: