A mother is a mother no matter if she's a human or an animal of any kind.
Mother's love for her children can't be measured because it is the strongest form of affection there is. There is nothing a mother won't do for the sake and the well-being of her little ones, and that's what makes these creatures special.
A couple from Maine, Emmily and Michael Austin, decided to take their 1-month-old baby at the Boston Zoo. Although he's way too young to understand anything, they were eager to start creating memories, and the one they made there is one to last a lifetime.
Emmily was passing by the gorilla enclosure when she decided to stop and show one of the gorillas, Kiki, her baby boy Canyon. Kiki was stunned by the little guy. She was looking at him curiously and then decided to do something truly touching.
Kiki took her baby gorilla, 7-month-old Pablo, and put him on her lap. After meeting Canyon, she now wanted the Austins to meet her child. Pablo was as curious as Kiki and couldn't stop looking at Canyon. He even tried touching him through the glass.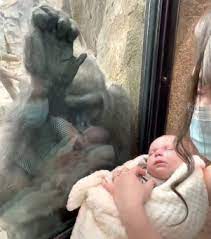 "My wife mentioned that she felt like she could understand their bond and could see how much she cared for Pablo since she is a mother now herself," Michael told the Dodo. "My wife held up our son to show to Kiki, who was on the other side of the enclosure … then Kiki grabbed Pablo and put him on her leg to carry him over to us.
"Pablo even pushed his face up to the glass at one point and they watched him, noses touching, together. My wife and I both had tears in our eyes."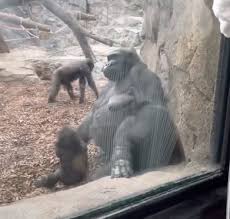 This experience has been one of the best in the life of the Austin family, especially because it included their son, too.
"It was one of the most amazing experiences. Such an incredible memory to share with our son someday!" Michael said.
These two mothers couldn't communicate using words, but they surely bonded over emotions and the love they both have for their children.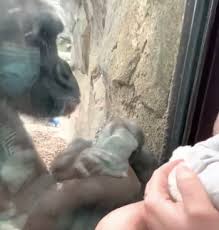 For more on this touching story check out the video below. Don't forget to share it with your friends.