Most wild animals are fascinating creatures, and although we can only admire their beauty from a safe distance, getting a chance to get closer to them feels surreal.
Well, the staff at the famous Colorado Wolf and Wildlife Center, an animal sanctuary located near Colorado Springs, get to be around wolves every day. What's most, they hang out with them, and even get the chance to pet them and cuddle with them.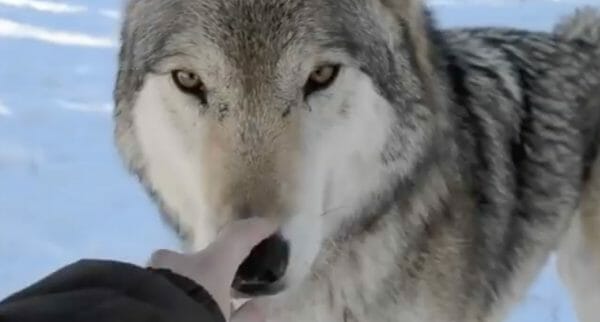 One of the wolves who has been born and raised in the sanctuary is gorgeous Kekoa, whose name stands for "brave one" in Hawaiian.
Although he's very big, Kekoa is in fact a gentle giant who loves spending time with humans, particularly a woman named Danielle.
These two share a special bond which fascinates many. Watching them playing and cuddling feels surreal, especially because Kekoa is way bigger than Danielle. He weighs in at 115 pounds and when he places his front paws up on a persons shoulders he comes in at about 7 feet tall!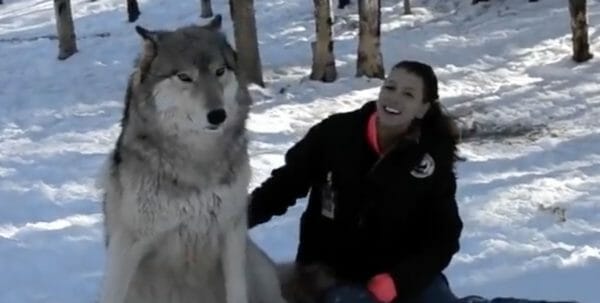 The video which caught the attention of many showing the two friends playing gets even better when another wolf, Sakara, comes along and asks for a cuddle.
"Since he was raised by people and bottle fed from the time he was born, he is very well socialized, meaning he enjoys the company of people. This is not the same as domesticated or tame. He is still a 'wild' animal, and he does tend to show it when he is around his sister. A wolf in the wild would not act this way."
The Colorado Wolf and Wildlife Center gives guided, educational tours which help teach people of the importance of wolves for the ecosystem. They organize various events such as Paw Day, Meet a Wolf Day, Halw-O-Ween, and a lot more.
Colorado has not been home to wild wolves since the 1940s, but it looks like they will return soon.
Please SHARE this beautiful story with your family and friends on Facebook.
Bored Daddy
Love and Peace