Born Eilleen Regina Edwards in Windsor, Ontario, on August 28, 1965, Shania Twain and her two sisters were brought up by their mother and her husband Jerry Twain, whom they considered a real dad as their biological father didn't have much to do with their upbringing.
They didn't have much while growing up but despite that, Shania never really shared details of her life with anyone because she was afraid that authorities could break her family apart if they knew how bad they lived and how much they struggled.
Shania started doing gigs at the age of eight.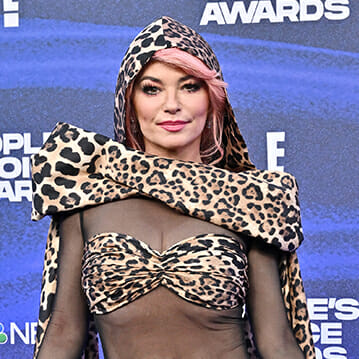 She performed at rural bars, and when she reached 13, she got to perform on the Tommy Hunter Show, a legendary country music variety show that aired on CBC Television and ran for 27 years. When she was 21, she relocated to Toronto, and just a year later, when both her parents died, she almost gave up on music in order to raise her two sisters and two brothers. "I thought, my family comes first. I have to take care of them. I didn't even think of my future… I'm lucky I got the job at Deerhurst, because it was music. I didn't know where I was going to go from there," the singer said.
"I feel like I've been this tree with good sturdy roots for 30 years, then all of a sudden someone comes along and is trying to cut me down, cut a part me off," Shania said of the loss of her parents.
"It was a very, very difficult time. But it was also a turning point in my life that, I think, matured me, brought me up to where I should have been in the first place at that age," she told CBC.
Eventually, her enchanting music and hits such as Come on Over that topped the charts for a very long time, helped the 'Queen of Country Pop,' take the world by storm.
Recently, she made headlines as she posed topless for a photoshoot done for the cover her of her latest single, Waking Up Dreaming.
Speaking of it, the 57-year-old star said she was comfortable doing the shoots.
"This is me expressing my truth. I'm comfortable in my own skin, and this is the way I am sharing that confidence," she told People Magazine. "I think the best fashion is confidence, and whatever you wear… if you're wearing it with that, it's fashionable. I am a woman in my late 50s, and I don't need to hide behind the clothes. I can't even tell you how good it felt to do nude shooting. I was just so unashamed of my new body… It's really liberating."
The photo portrays Shania kneeling on the ground sporting a white skirt and tie-dyed pink boots and completing the look with a white cowboy hat. She has her arms in front of her body.
Back in 1993, she decided to go bra-less and show off her midriff for her What Made You Say That music video. "From the very beginning… the very first video… I was ditching the bra," she shared with People.
"But, I was a lot firmer then, so as I grew older, I started feeling a different pressure of, 'Well, your breasts are not as plump as they used to be. Your skin is not as tight as it used to be. Maybe you should start covering it up a little bit more.'"
Of course, over the years, she has faced insecurities when it came to her body but that served as inspiration for the boldness she hopes to convey in her upcoming project.
"I hit this wall and was like, 'Whoa, my confidence is regressing. My courage is dulling. Why am I allowing this? Frig that. I am not regressing. I am embracing my body as it changes, as I should have from my childhood to my teens, as I should be from my taut, 20s and 30-year-old self… I'm not going to be shy about it. I want to be courageous about it, and I want to share that courage in the artwork that I am directing," she said.
Please SHARE this article with your family and friends on Facebook if you are a fan of Shania Twain.
Bored Daddy
Love and Peace