"Dear Mom, Love Cher" is a documentary from 2013 that features the life of Georgia Holt, an American singer, actress, a former model and mother of pop queen Cher. The film was a result of Cher's love and appreciation for the woman who has always been by her side and helped her be the woman that she is today.
Georgia Holt, born Jackie Jean Crouch on June 9, 1926 in Kensett, Arkansas, has been married six times during her lifetime.
Her mother had her when she was just 13 years old and Georgia spent most of her childhood with her father who took her to nightclubs where she performed. She remembers her dad, Roy, as a caring father who wanted only the best for her. In hopes of a better life, Georgina and Roy moved to L.A. She changed a number of high school and recalls being the poorest kid in each of them. "I was the only poor kid in the school, and I was already insecure. But my voice saved me because I sang in school, and I was real popular because of my voice," she said in an interview with the Chicago Tribune.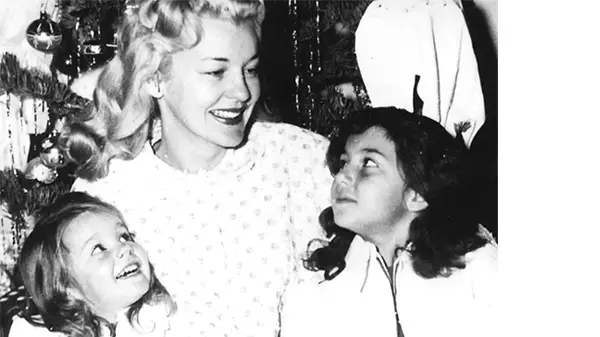 When she was 17, Georgia moved to California and started working at a donut shop where she met her first husband and Cher's father, John Sarkisian. He was "a good talker and could talk anyone into anything," so it wasn't hard for him to make Georgia agree into marrying him.
It wasn't long until Georgia got back to her mother telling her she was pregnant and asking to stay with her. Her mom agreed to let her in but told her she had to abort the baby. Georgia didn't like the idea so she moved back in with John again.
Cherilyn "Cher" Sarkisian was born on May 20. 1946 in El Centro, California.
In 1950, the mother and daughter moved to L.A. without John and it was then that Georgia got her first movie roll in an episode of the TV series 'The Adventures of Ozzie & Harriet'.
Georgia's second husband, Chris Alcaide, was very much in love with her, but he was a jealous man, so just 20 minutes after she said "I do," Georgia said "I don't."
When Georgia auditioned for the movie The Asphalt Jungle, she believed getting the role would help her with her big breakthrough, but producers decided to give it to another Jean; Norma Jean Baker aka Marilyn Monroe.
After she experienced the disappointment of not getting any work in the movie, Georgina married her third husband and father of her second daughter Georganne Elizabeth, John Southall. He was a loving man who was nasty when drinking, so once again, Georgina found herself alone and now with two kids to raise on her own. Sadly, that meant getting back to working double shifts.
After she divorced her fourth husband, Gilbert Hartmann LaPiere, who adopted both her daughters, Georgina married Cher's father John again, and the marriage lasted for a year. Her sixth husband was Hamilton T. Holt whom she married in 1970 and divorced four years latter.
Mom Playing Around …..
Notice 🕶 & Jacket…. pic.twitter.com/b4YyVMSTDx

— Cher (@cher) December 11, 2018
Today, Georgina is in a relationship with Craig Spencer who is 21 years her junior. "I knew deep inside he was a good person, but I thought he was interested in me just so he could tell people he went to bed with Cher's mother," she told People. But it turned out that wasn't the case as the two have been together for 44 years.
Georgina Holt is 94 today and looks as beautiful as always, so it's obvious who her daughter Cher inherited the good looks from. This incredible mother and woman sacrificed a lot for her girls to turn into happy and successful individuals. Her dreams of making a name for herself in the film industry didn't really come true in the way she has always imagined it, but she's happy that her daughter became one of the most famous female singers in the history.
"And I don't think I would have been as good as she is. I don't think I was equipped, strength-wise, to do it," she said.
Had Great Day at Moms 🎂Day.
Gee,Mom,Me.
Sharing my Medal With My Mom.SHES SO PROUD.SHE SAYS SHE'LL LOOK AT IT EVERYDAY.SHE'S 93 & THE LOOK IN HER EYES SAID IT ALL.
AT FIRST SHE DIDNT UNDERSTAND…THEN I SAID
"MOM WE CAN SHARE IT"
SHE WAS SO PROUD
. pic.twitter.com/dXastaixwv

— Cher (@cher) June 3, 2019
Cher never misses the chance to praise her mother and thank her for everything she has done for her and her sister.