The California wildfires continue and the country is facing another round. It has been reported that the statewide death toll is 58, as eight more human remains had been found on Wednesday.
Unfortunately, authorities expect this number to grow, as the list of missing people is getting longer. Thousands of residents were forced to leave the cities as around 8,650 homes were completely destroyed.
Citizens are left terrified and in deep shock of the devastating outcome of one of the most destructive wildfire seasons on record in California. And while they are fleeing the country, fearing for their safety, another group of people approach the flames, bravely standing against them face-to-face. The firefighters are the sparkle that gives us hope that people and animals will be evacuated to safe places, and more homes will stay out of the reach of the fires.
These real life heroes are standing between total destruction and minor burn marks, grabbing the hoses as tight as they can, aware that the safety of a whole country depends on them. But what happens after they finish with the fight for the day is heartbreaking.
A California fire department shared a photo of the reality we don't get to see. This is all the rest and break the restless firefighters get when they leave the battleground.
The Kern County Fire Department shared the photo last December (below) and said:
"This is a photo of our Tehachapi Wildland Fire Crew 11. Our crews have worked hundreds of hours to help battle the Thomas Fire. These firefighters work 24-hour shifts and are pushed to the point of exhaustion. Thank you, for your dedication and hard work to help the communities of Southern California."
These heroes are taking the much-needed nap with their uniforms on, and their helmets next to them just in case they need to get back and continue their heroic work. They are completely covered in soot and this is all they get before the duty calls again.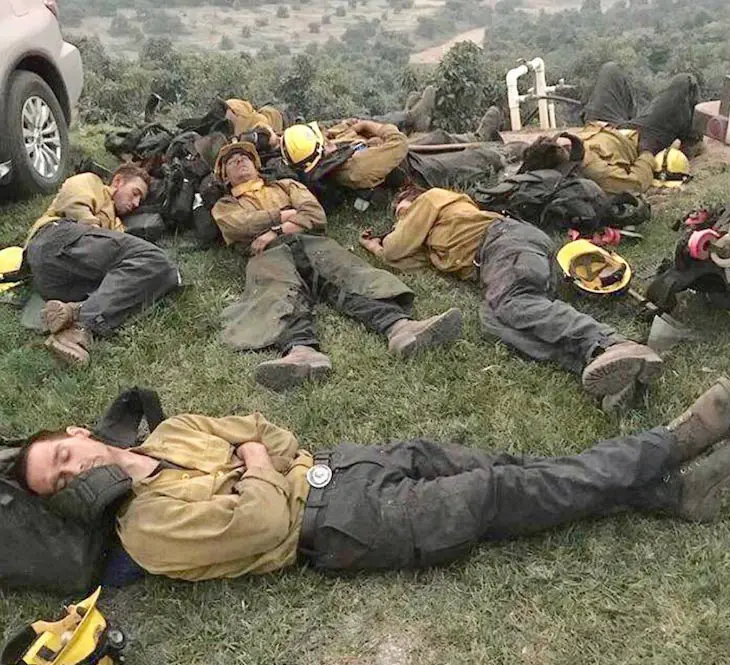 Looking at the photo, we better understand the sacrifice all the firefighters make in order for ordinary people to be saved and their homes to be kept untouched by the burning flames. I'm sure everyone feels the urge to help these courageous men, and that's the reason why they receive gifts by random people.
Darren Dow, the vice president of California Fire Local 2881, told TIME that while material donations like clothing and supplies are nice, they're often unwanted. Instead, the firefighters battling flames in California could use monetary donations now more than ever. Dow said:
"A lot of times cash donations are better because they can actually utilize those dollars for specific needs rather than taking away some manpower."
If you'd like to make a financial contribution, TIME recommends donating to one of the following reputable organizations:
AFF's Disaster Relief Fund
"[Helps] firefighters who are working on the front lines and their families in a variety of ways, from financial to emotional support."
California Fire Foundation
"Provides support for firefighters and the families of those who have [passed] while at work."
CDF Firefighters Benevolent Foundation
"Provides funding for injured or fallen firefighters and their families, as well as burn victims."
If you are not in a position to donate money, a prayer and some nice words are always welcome.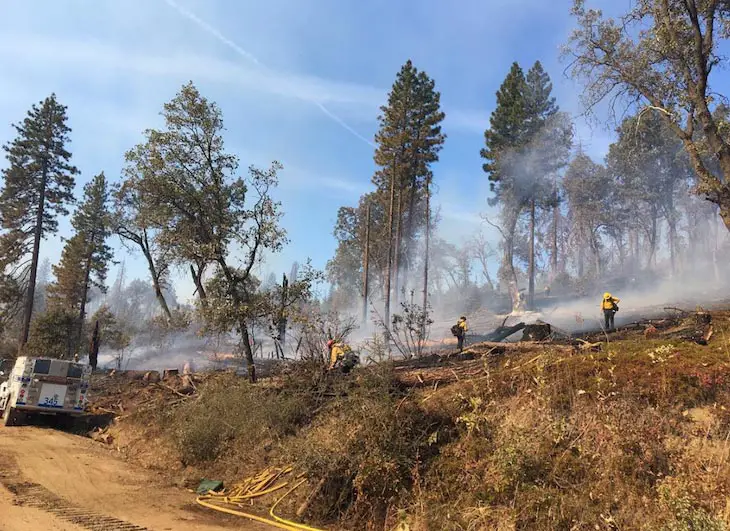 To all the firefighters out there, remember that you are our heroes, and our thoughts are always with you because your strength is the strength of the country. May God bless you all.