Moving between two homes for the remainder of their young years, like things couldn't get any worse between quarreling parents, but then they start dating! Love and marriage, go together like a horse and carriage? But, divorce rates in America over the last few decades are around a staggering 50 percent!
As emotions escalate between husband and wife it's the children who feel the repercussions of a shattered world around them. That, and when the parents start dating as if things could really get any worse?
Well, we don't normally hear about or even see broken families that are perfectly happy, however, in this case, there are really amazing stories from a mom, divorced, who has discovered a great way to cope with ex-husband's new girlfriend.
The past was not how Brittney Johnson had envisaged it would be, her marriage with her hubby had come to an all but abrupt end, but gifted them a beautiful daughter Payton, some small reward for their time together maybe.
Brittney recently wrote on facebook and gave a shout out to the perfectly unlikely father in her daughter's life, daddy's newest girlfriend, called Kayla. So, starting with such a simple, however, profound question:
"To all of the mothers out there who throw a fit when another woman treats your child as her own …why isn't that exactly what you want?"
Now, this is plenty, meaningful, sincere words to leave a lot of us speechless right? After all, there really is no good enough motive, besides sour grapes and vengeance, but, it doesn't stop there.
Brittney continues to elaborate, throwing a spanner in the works, she says that all her prayers have been answered in the type of woman her ex-hubby is dating:
"I prayed one night for the type of woman my daughter's father would be with, knowing that she would be raised in two homes."
"Kayla has been a gift of so much more than I could have hoped for."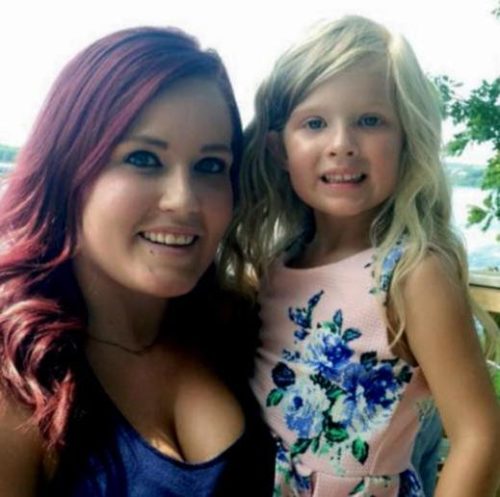 Back to Kayla, who is a nursing student, and is a great example to their daughter Payton. Every single day Payton sees Kayla working tirelessly towards her goal, on top of giving love and consideration towards the family.
Brittney said:
"… I'm raising a strong girl, a smart girl, and a sweet girl. And I want nothing more than for her to be surrounded with role models who are exactly that."
"Thank you Kayla for showing Payton how to chase her dreams, how to work hard and stay up late to study for a test."
"Thank you for still making time to ride her bike with her and make her mac and cheese even in one of the stressful times of your life."
Kayla had even bought a nurses uniform for little Payton so they could play nurses together, this surely is a huge sincere gesture in many ways, and also a way to make a proud mother of her little girl.
Brittney went on to say about Kayla:
"You're a true role model and an amazing bonus mom and we are so proud of you!"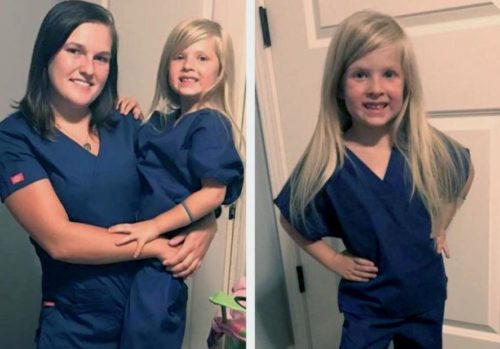 Brittney's powerful words, as parting advice, seem to be as sincere as the question she asked at the start of her post.
So she asks all parents in a similar position:
"If you're co-parenting, and seeing your child doing things like this doesn't bring a smile to your face, reconsider what's truly best for your child."
"Payton has more people to love her this way, and what more could a mother ever want for her child?"
"Being best friends with me AND being best friends with Kayla, is exactly where P deserves to be. It takes a village, and I happen to love mine."
The message Brittney posted has gone viral, shared by almost 50,000 times with 100's of thousands of people reacting to it on Facebook, what a powerful message don't you think?