I don't even want to imagine celebrating my kids' birthday, or going through labor without my husband by my side. Unfortunately, the spouses of the military men and women experience this all the time. Moms and dads, and husbands and wives miss a lot while serving the country and making sure the nation is safe and sound.
The reason families are separated from their loved ones for months is why the so much anticipated reunions are always full of emotions. Watching these people get back home is what fills our hearts with joy.
Corporal Christopher Gerren has been deployed to Afghanistan for seven long and tough months. His wife Jessica gave birth to their son Remington while he was away, and he wasn't there to see his baby boy entering the world.
Both Jessica and their two children were patiently waiting for their hero to get back home.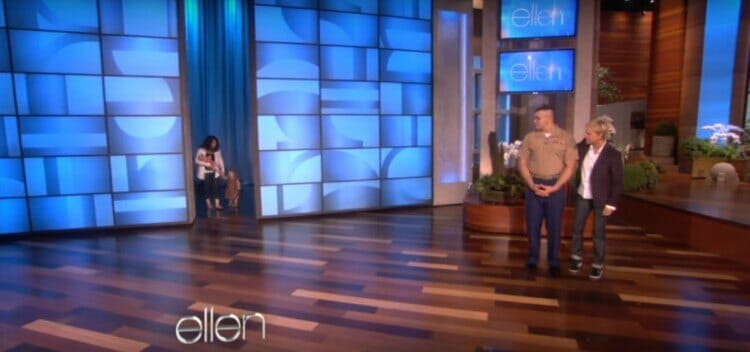 The story of this family takes an amazing turn when our favorite host Ellen DeGeneres steps in and welcomes Jessica to her show. The reason Jessica believed was invited was to speak of the life of women whose husbands are deployed abroad, never assuming the surprise of her life was waiting for her right there at the studio.
As they were chatting, Corporal Gerren appeared on the screen. Jessica was lucky to see him, even though he wasn't physically present. But that was about to change too. At one moment, Ellen paused the show due to what she referred to as 'a technical glitch.' The reality was that Corporal Gerren was about to enter the place. Once Jessica saw her husband standing next to her, she couldn't hide her excitement. She had no idea he returned to the States, but he was really there and she and the kids could finally embrace him.
Ellen, however, did a lot more for this loving family. She learned how they've never been on a honeymoon and she wanted to give them the chance to enjoy themselves. Jessica and Christopher were getting an all-expenses paid trip to St. Lucia. On top of that, Ellen gave them $10,000.We are so glad the Gerrens were given the chance to be around each other again.
Ellen is really one-of-a-kind. She knows how to thank those who sacrifice it all for the sake of our country and we love her even more because of that.