It's astounding what some people are ready to do in order to save a life. It takes a lot of courage and sacrifice to do what this Russian man did when he spotted a canine in trouble.
Apparently, the stray dog was running over the frozen pond hoping to catch one of the ducks he noticed waddling by. But things didn't go as planned and the poor dog hit some bumps in the road and found himself inside the freezing water.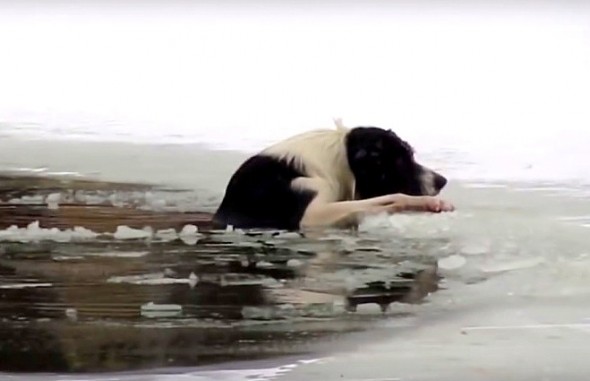 It's crazy how the man didn't hesitate a bit and didn't think of his safety, but quickly rushed towards the drowning dog. He wore nothing but his pants. No shirt, no shoes.
In order for him not to fall in the water he knelt down and slowly approached the dog who was caught up either in a rope or netting. The scared animal didn't know the man was there to get it out of the cold. It would angrily bark at the Russian whenever he tried to stretch his arm towards it.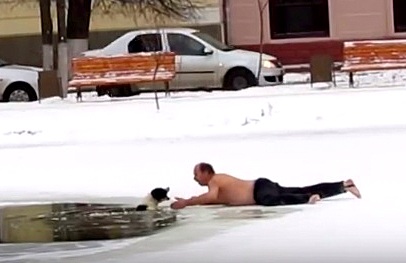 At one point, the dog bit the man's hand. But the brave savior never let go of the attention to get the animal out.
With his hand hurt, the man was aware he was short of time and had to act really fast. Eventually, he grabbed the dog by the scruff of his neck and pulled it out of the freezing water.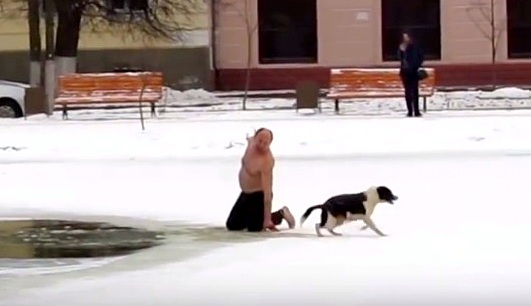 The dog got his happy ending and a second chance for life, while the hero who didn't let anything stand on his way of the incredible rescue was provided help for his injured hand. The local authorities thanked the unnamed man for his bravery, and placed the dog at a safe place.
And while not all heroes wear capes, the hero from this story didn't really wear much, well except for his pants.
Isn't this one of the best rescue stories you've ever stumbled upon?
If yes, please share it with family and friends.