Losing a parent at young age can be devastating and it can change the life of that child forever. It's not that the pain is any different when we are older, but at least we easily accept the reality, unlike the little ones who can't understand why their mom or dad suddenly left and never returned.
Avey Cox is a young lady whose father passed away. That meant she would be the only girl in her class who wouldn't attend the father-daughter dance. Well, at least she thought so, before someone special stepped in.
Officer Nick Harvey from the Van Buren, Arkansas department is a guy who is always going an extra mile for the people from his community. When he learned of Avey's story, he decided to take the role of her dad for the upcoming school dance.
Of course, he first spoke to the girl's mother of his idea. Harvey told KFSM: "I reached out to the mother because the last thing I wanted was to get rejected by a second-grader, and then the next day I formally asked if she'd be my date to the daddy/daughter dance."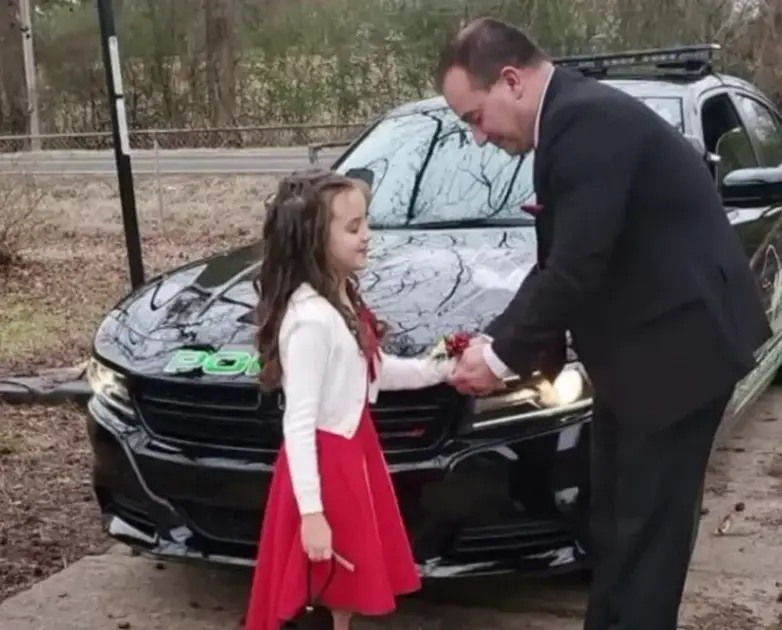 Avey was over the moon. She couldn't wait for that special day to come and even asked Harvey to wear matching outfits. He was as happy and agreed on whatever sweet Avey asked for.
On the big night, Harvey and Avey took a group photo with the rest of the fathers and daughters and had a great time together. They both danced their hearts out.
Someone captured the precious moment these two shared and posted it online along with their story. Needless to say, everyone praised the kind officer for what he did.
"It meant a lot because I actually got to go and see all my friends there," Avey told 5News. "And then, I got to go with him and have a lot of fun." Harvey on the other hand said laughing, "I embarrassed myself a little bit and danced when I can't dance at all."
After the special night was over, all the kids went to have ice-cream with officer Harvey.
This story speaks kindness and being there for those in need louder than anything else. Thank you officer Harvey for everything you are doing for the community.
You can take a look at the whole story in the video below. Don't forget to share it with your friends.