Thanks to her enchanting beauty and her passion for modeling, model and fitness guru Cindy Crawford took the world by storm the moment she appeared on the runway. Even today, she's considered by many the most beautiful woman who has ever walked this Earth.
What we all love about Crawford, I guess, is her boldness to speak up openly of the rigid rules the fashion industry imposes on the models. What we see on the outside is a world filled with luxury, but the truth is that modeling is quite a competitive industry that requires dedication and perseverance.
Knowing all this, Crawford was extremely cautious when her daughter, Kaia Gerber, decided to pursue a career as a model and follow in her famous mother's footsteps.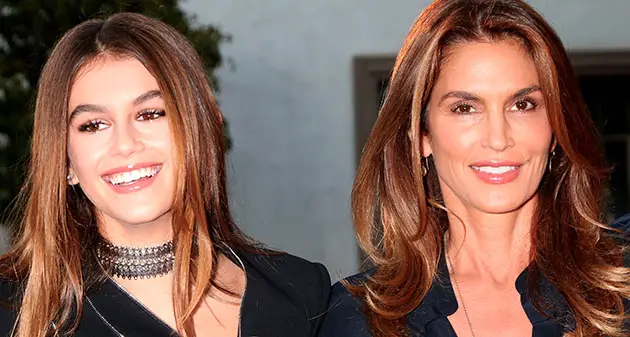 Crawford was born on February 20, 1966, in DeKalb, Illinois. She was an excellent student and was class valedictorian when graduating high school. After high school, she pursued a degree in chemical engineering at Northwestern University, but dropped out so that she could focus on her modeling career.
One thing that makes Crawford special, besides her beauty and intellect, is the mole above her lip. In the past, she hated it because her sisters would often say it was an ugly mark, but she eventually got to love it and it became her trademark. When she was first featured on the cover of Vogue without them retouching it off, she said to herself, "If it was good enough for Vogue, it's fine."
"I feel like for me, so many women have beauty marks and when they saw me on the cover of Vogue or in a magazine with my beauty mark it made them feel more comfortable about their own beauty marks," she said in the Naomi Campbell interview.
"And it made them remember me. It became the thing that set me apart in a weird way. So often the thing that we see that sets us apart and we're insecure about, it becomes the very thing that makes us stand out. And I think that was a big lesson for me."
Over the years, Crawford taught many young models to learn to love themselves the way they are.
Crawford married actor Richard Gere in 1991, but they divorced four years later. In 1998, she married her current husband and the father of her two children, businessman Rande Gerber.
Being children to a celebrity and one of the best and most influential models, Crawford's children, son Presley Walker Gerber, and daughter Kaia Gerber, have lived under the limelight from the moment they were born. The two appeared in a Pepsi commercial along with their mother and Kaia loved it so much that she decided to become a model herself.
What is special about Kaia is that she's a spitting image of her mom, and just like her, she dived into the world of modeling from very young age.
"When Kaia started to model, she jumped right into it, loved it, and immediately wanted to do everything," Cindy Crawford told Vogue. "I was very protective at first, and I traveled with her to fashion month. But Kaia has her head on straight."
Speaking of the uncanny resemblance, Kaia told Vice, "As a child I never thought I looked like my mom, I never really imagined it was something I could do. My mom never pushed it on me. Then, as I started to get older, people began approaching me to start modeling and I was very skeptical.
"It's hard enough growing up, as a woman, with all those changes you go through as a teenager… to do that in the public eye is really scary. You need to be really confident."
Beautiful Kaia was featured in the Italian Vogue when she was just 13, and from that moment on, all eyes have been on her. She has done shows and runways for some of the most famous brands in the industry, including Chanel, Marc Jacobs, Alexander Wang, and Karl Lagerfeld.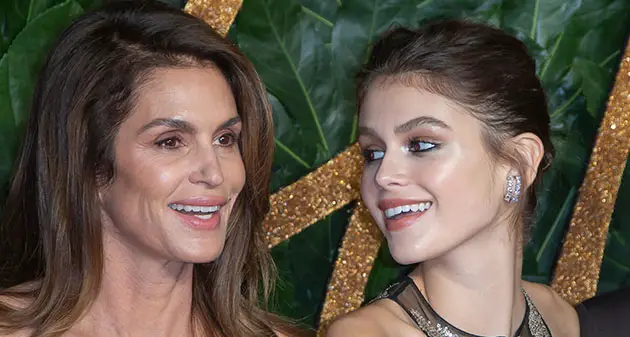 Being the daughter of Cindy Crawford, Kaia is expected to be as great as her mother, and so far, she proved she is, although she does have big shoes to fill.
"I'm very aware of the special circumstances I entered the industry under. I have so much respect for young women who come into fashion from less privileged positions: you know maybe they don't speak English, maybe they're sending money back home to support their families?," Kaia told Vice. "They have this pressure that I could never speak on. There are girls who I started with, who I've seen grow and get stronger, and I admire all of them so much."
During the last two years, with the ongoing pandemic, 20-year-old Kaia is spending most of her days with her family in their home in Malibu, California."We have a sort of compound with a garden, and a big lawn, and the beach that we could go to every day," she told Vogue. "I'm not blind to the fact that we've been incredibly blessed."
When it comes to her personal life, Kaia dated Australian actor Jacob Elordi from August 2020 to November 2021, as per Harper's Bazaar.
She won Model of The Year at the 2018 British Fashion Awards.