Becoming a world famous singer do requires possessing amazing vocals and God given talent, but luck is always there in the picture. There are lots of people whose voice sounds out-of-this world, but they never made it in becoming starts or pursuing a career in the music industry.
However, thanks to the talent shows such as The Voice or X Factor, many struggling musicians get their chance to wow the world. You certainly remember Susan Boyle, the lady who stunned 10 million viewers of Britain's Got Talent and became a celebrity over night. And as it's normal for people to be noticed while performing on huge stages of popular shows, it's definitely not that usual for a talent to be found on the street.
An older gentleman with long bushy hair, wearing gray pants, hitting the high notes of "Hallelujah," sometimes accompanied with a guitarist with torn jeans, stunned the onlookers and everyone who got to listen to his divine voice.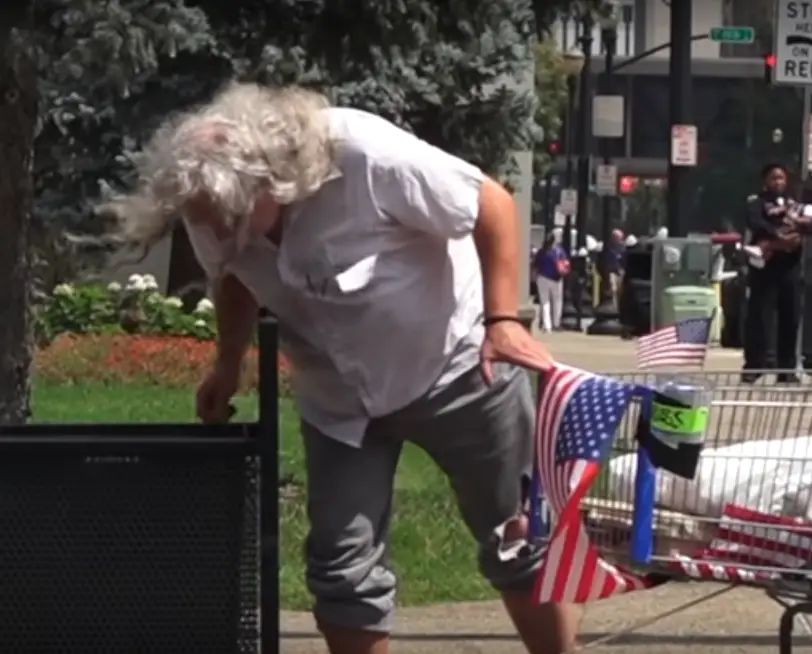 This man is Herbie Russ. He spends his days helping the homeless make enough money to go through the day. At times, he can be noticed puling a trolley and sifting through garbage, but what he really does is using his voice to entertain the passersby who will hopefully put some money in his box. This time, Russ has been seen singing the amazingly ear-catching rendition of "Hallelujah" while sitting under a tree. People say he often sings while walking by the side of the road, while his amazing voice is blending with the noise of the driving vehicles.
You'll be amazed to hear that he does all of this for his fellow friends on the street. All the money he makes are for them.
In fact, this generous man is a professional musician, singer, and a songwriter. He had borrowed his voice to many companies, and can be heard doing the commercials of General Motors, AT&T, the Ford Motor Company, and Fox Network.
However, Herbie didn't have an easy life. He had been kicked out of his home when he was a teenager and he's been living this kind of life ever since. He survived playing for bands, and sleeping on couches.
When he found himself at the crossroad of life, not knowing what to do with his talent, he somehow found himself in front of a shelter for homeless people. He though it was a sign from God to use his voice in order to help the less fortunate. But, when he offered to sing and play for the residents, the shelter's staff turned him down. This didn't discouraged Herbie. On the contrary, he started doing gigs and used the money he was making to ease the life of the people who needed a push in life.
He has many bookings for shows now, but helping others remains his life mission.
It's amazing what this man does for the community. His kind deeds affect the existence of many people who are left alone and have no one by their side.
Think your friends would be interested? Share this story!